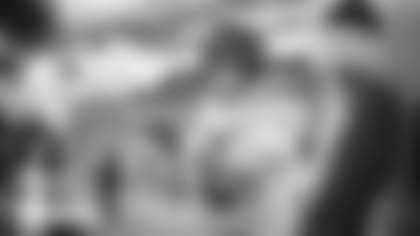 Battle of the Rookie QBs
Sunday's game will be the fourth time since 1967 that quarterbacks selected No. 1 and No. 2 overall in the same draft play each other as rookies. Trevor Lawrence has started in all 14 games this season and thrown for 2,945 yards, 9 TDs and a league-high 14 picks while completing 58.1% of his passes.
"He's only thrown one touchdown pass in seven weeks," Jaguars team reporter Ashlyn Sullivan said. "He hasn't thrown a touchdown pass in three weeks and he's coming off a game against the Houston Texans where he really struggled to find chances downfield. I don't think this is all on him. I think the wide receivers are having a lot of trouble getting open and the offense as a whole is stagnant. Truthfully, it's hard to judge how Trevor Lawrence is doing because of everything going on around him."
She added: "Before the Jaguars bye week, this offense was moving. It was clicking. Look at the injuries this offense has faced, they have no D.J. Chark, their No. 1 receiver. Travis Etienne, who was a first-round pick in the draft and was supposed to be an explosive weapon for Trevor Lawrence, never even saw the field. He got hurt in training camp. They had this plan to put a bunch of speed around Trevor Lawrence and it did not go according to plan."
Zach Wilson, on the other hand, has shown signs of progress since returning from injury. He hasn't thrown in interception in his last two starts and feels like he's starting to play free.
"The positives are, versus a very complex coverage, I thought he did a really nice job managing the game, getting the ball where it needed to go," HC Robert Saleh said on Monday. "We scored 17 points on a pretty darn good defense in the first half and they hadn't allowed 17 points in their six-game streak here. … There's a lot of really cool things that he's doing and it's on all of us to help elevate him even more from winning one-on-ones as route runners to pass protection to running the football. All of it."
Jets Rush Defense vs. James Robinson
The Jets have struggled stopping the run recently. The defense has allowed a 100-yard rusher in each of its last three games -- Eagles RB Miles Sanders, Saints RB Alvin Kamara and Dolphins RB Duke Johnson.
Now the Jets will face a Jaguars rushing attack that ranks No. 23 in the NFL averaging 103 yards per game. James Robinson, the NFL's fifth-leading rusher in 2020 as a rookie undrafted free agent out of Illinois State, is the lead back. He's 15th in the league with 757 yards to go with 8 touchdowns. He's eclipsed the 100-yard mark one time (Week 5 vs. Tennessee) and has received more than 20 carries per game. Last week against the Texans, Robinson ran for 75 yards and 1 TD on 18 carries.
"I expect him to get many more carries against the Jets and ran well against the Houston Texans," Sullivan said. "Once they figured out the Jaguars are really, right now, a one-dimensional offense running the ball, they took the running game away. I'm curious to see if the Jaguars can spice up more of their offense this week."
Jets WRs vs. Jaguars CBs
The Jets wideouts haven't been as productive since Corey Davis (core-muscle surgery) and Elijah Moore (quad) exited the lineup. The receiving corps has combined for 20 receptions, 209 and 0 TDs over the last two games. The Jaguars rank No. 16 against the pass in the NFL and has held their last two opposing quarterbacks under 210 yards passing. Rookie CB Tyson Campbell finished second in the NFL with a 92.5 Pro Football Focus grade in Week 15 (Jets rookie CB Brandin Echols finished first).