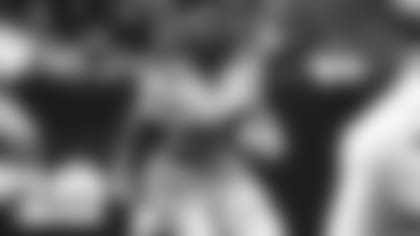 Running Game
The Eagles have the NFL's best rushing offense, averaging 157.9 yards per game. They've found a recipe for success with QB Jalen Hurts, who also leads the team with 695 rushing yards. The second-year signal-caller, however, is dealing with an ankle injury he sustained last week in a loss to the Giants at MetLife Stadium.
"Each guy has a unique skillset," Eagles team reporter Chris McPherson said. "Miles Sanders is an explosive, big-play back who can churn out 10-, 20-yard explosive runs at any given moment. Boston Scott is a tough, smallish running back, who's real tough inbetween the tackles and Kenny Gainwell out of Memphis, he's a guy who can catch the ball out of the backfield and be utilized in the pass game and in the run game. He's been utilized as a red-zone weapon throughout his rookie campaign. You add Hurts to the mix, it's a wide variety of skillsets.
"You may just say the Eagles are going to run the ball, let's line them up and smash them each and every time. Well, between the talents of the offensive linemen and the way they're designing this run game, it's making it very difficult. The Eagles have found this right formula. It's taken a little while to get to it, but they're doing a great job of finding ways to get the ball into the hands of all of these playmakers and utilizing their strengths to keep [defenses] off balance."
The Jets, on the other hand, are coming off a season-high 157 rushing yards on 34 carries (4.6 avg) against the Texans. RB Tevin Coleman led the way with 16 carries, 67 yards (4.2). Ty Johnson ran for 42 yards compared to Austin Walter's 38, but Walter had 3 more rushes. The offense has had back-to-back 100-yard games for the first time this season.
"I think that was just us as an O-line being on our targets and handling the stunts in the games as well," rookie LG Alijah Vera-Tucker said of the team's performance at Houston. "We knew their linebackers like to shoot through the gaps as well. They like to run downhill, so we had to take advantage of that, as well. I think the main thing is just being disciplined with our aiming targets."
Two SEC Rookies
Sunday's game will have a pair of rookie wideouts who were both extremely productive in the SEC -- Eagles first-round pick DeVonta Smith and Jets second-round pick Elijah Moore. Smith, the No. 10 overall pick out of Alabama and the Heisman Trophy winner in 2020, leads Philly with 48 receptions, 686 yards and 4 TDs. Moore ranks second on the Green & White in catches (38) and yards (461), and his 4 TD receptions are tied for first.
"He's a tremendously gifted route runner," McPherson said of Smith. "So smooth, so electric. He's not a burner, he's a not a track star on the field, but because of his route running, he's able to get separation and make quick cuts to make defenders off track. He's very good with his hands and he's been able to catch pretty much anything his way. … You can say he's about 5-9, 170, what have you, but this guy will fight you tooth and nail."
Speaking of how impressed he is with Moore, Jets OC Mike LaFleur added: "Just the speed at which he's playing. … It takes rookies a little bit longer, particularly receivers, not all of them, but the majority of them. The ones that you hear about are the ones that are producing. You don't really hear about the ones that aren't producing as much in terms of rookies. For him, it's just been getting used to the speed of the game. He missed those three games in the preseason, which a lot of people kind of forget about."
History on the Horizon?
The Jets have beaten every team in the NFL in their history except for the Eagles -- they're 0-11 against Philadelphia in the regular season. Sunday's game is the 12th meeting between the teams despite playing every preseason.
"I didn't realize that," TE Ryan Griffin told reporters on Sunday. "It seems like the Jets have been around forever and I figured they'd have a win against everybody. It plays a little more importance. I think it would be pretty cool to be on the first Jets team to get a win against the Eagles, but that being said, we just need this game for two in a row and try to get things rolling in the last quarter of the season."
Griffin is one of seven Jets on the active roster who played in the last meeting between the teams in 2019 when the Eagles won, 31-6, in Philadelphia. The other six are: DL Quinnen Williams, WR Jamison Crowder, TE Trevon Wesco, DL Kyle Phillips, WR Braxton Berrios and LS Thomas Henny.