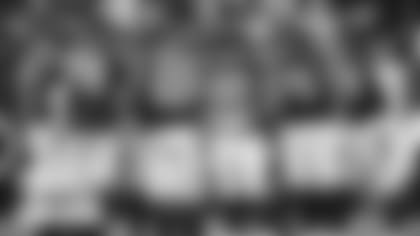 Flacco Under Center
The Jets will start their third quarterback and play their fourth under center this season as they'll turn to veteran QB Joe Flacco against the Dolphins on Sunday at MetLife Stadium.
Flacco, who was acquired via trade on Oct. 26, played in five games (four starts) for the Green & White last season, throwing for 864 yards, 6 touchdowns and 3 interceptions while completing 55.2% of his passes. Last week in relief of Mike White, Flacco completed all 3 of his passes for 47 yards, including a 15-yard scoring pass to WR Elijah Moore.
He'll line up against a defense that held one of his former teams, the Ravens, to 10 points last Thursday.
"Joe has the ability to process and get the ball in and out of his hands as quickly as possible," head coach Robert Saleh told reporters Wednesday. "I have a lot of faith in Mike LaFleur and his ability to game plan with his staff and put players in position where there is space to be had. It goes back to Joe's experience and recognizing coverages pre-snap and knowing exactly where the ball needs to get as quickly as possible. We want to avoid hits and get the ball to where it needs to go in space."
Tua's First Start vs. Jets
This Sunday's game will be second-year QB Tua Tagovailoa's first start against the Jets. He made his NFL debut last season against the Green & White in Miami but only took 5 snaps in the Fins' 24-0 win. He completed both of his pass attempts for 9 yards. The No. 5 overall pick out of Alabama in 2020 has thrown for 1,198 yards, 7 touchdowns and 5 interceptions while completing 65.3% of his passes in six games (five starts). Tagovailoa missed three games with a rib injury earlier this season and did not play in Week 9 but was active with a finger ailment.,
"He's processing a little bit better, a little faster," said Armando Salguer, the senior NFL Writer at Outkick.com "He's identifying the defense better pre snap and making decisions during the play a little bit faster. But let's not forget the Miami Dolphins the entire offseason and for two months during the season were looking at trading for Deshaun Watson of the Houston Texans. Not only were they looking, they were basically the last man standing. … The fact remains the Dolphins were more than willing and ready to replace Tua Tagovailoa, who was their No. 1 overall pick in 2020 and No. 5 overall. If you're asking me how is Tua doing, well he's surviving. Is he Mr. Right? No, he's Mr. Right Now."
Eliminate Explosives
The matchup between these teams could come down to who allows more explosive plays.
The Dolphins defense has allowed 50 plays of at least 20 yards, which ranks 31st in the league. Its 150 plays of at least 10-plus yards ranks last. The Jets defense, however, has allowed an average of 43.8 points per game since the bye week and ranks last in plays going for at least 20 yards (52). The Green & White's 147 plays allowing at least 10 yards is tied for 30th.
"Against Buffalo last week, too many balls over the top of the defense, too many lost 1-on-1s on the edges," Saleh told newyorkjets.com's Eric Allen. "There was some miscommunication that allowed the shots to get over our head and those are things that as a coaching staff, we have to be relentless in terms of making sure out communication is very simple. As players, we have to be relentless in executing. If we can eliminate explosives from the defensive side of the ball, we can eliminate the amount of points that are being scored."