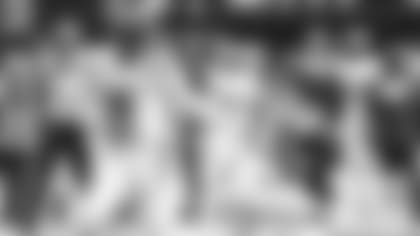 The Rookie and The Vet
Buccaneers quarterback Tom Brady completes his AFC East reunion tour on Sunday against the Jets. He spent 20 years with the Patriots in the division and is 3-0 this season against the teams he used to play twice a year. The Bucs have outscored the Bills, the Dolphins and the Patriots, 97-61. Brady, 44, leads the NFL with 4,580 passing yards and 37 TD passes in his second season with Tampa Bay.
"He knows everything," Jets DT Sheldon Rankins said. "He's seen it all, he's played against it all. Just understand that each and every rep is its own battle, its own war, and focus on that. Don't get too ahead of yourself, don't start thinking about what just happened, but understand the task at hand and go out there and treat every down like it's its own objective. And have fun playing the game. Don't look across the line and get starstruck and all those things. At the end of the day, football is football. At the end of the day, he is Tom Brady, but you got to treat him like a nameless, faceless guy. Go out there and go through your progressions, go through your keys and play football the way you play football your whole life."
Brady was preparing for his final season at the University of Michigan when Jets QB Zach Wilson, the No. 2 overall pick in April's draft, was born. Wilson, 22, and Brady share a birthday on August 3rd and their 22-year gap is the largest between two starting quarterbacks since at least 1950. Wilson has continued to make strides the back half of the season and has been interception-free his last three games. He led the NFL in ESPN's QBR in Week 16 with a 92.4 rating as he completed 14 of 22 for 102 yards and 1 TD. He also had 91 yards and 1 TD on the ground, one was a 52-yard score, which was the longest run of any Jets QB in franchise history.
"Zach's decision making has been fantastic," HC Robert Saleh said. "His off-schedule stuff, he's starting to look natural. I mean, shoot, he finally pump faked a defender and ran around him for a big chunk of yards to just show the natural playmaking ability where he finally looked a little bit loose [Sunday] in terms of running with a purpose, not running just to run. He's coming along, he's getting more comfortable, he's calmer back there. Like I said, he's in a great headspace and it's going to be fun to watch him continue to grow."
Hot Rushing Offense vs. Bucs Premier Rush Defense
The Green & White's 273 rushing yards led the NFL in Week 16 (the Browns were second with 219) despite a makeshift offensive line. The team's starting guards -- LG Alijah Vera-Tucker and RG Laurent Duvernay-Tardif -- are each on the NFL's reserve/Covid list. Dan Feeney and Greg Van Roten started in their place. Rookie RB Michael Carter ran for a career-high 118 yards on 16 carries (7.4) and Tevin Coleman added an additional 51 yards on 14 tries (4.1 avg). It was the most rushing yards for the team since 2018 (277).
This week, the Jets face one of the NFL's premier rush defenses. The Buccaneers defense, coordinated by former Jets HC Todd Bowles, allows 87.5 rushing yards per game, which ranks No. 3 in the NFL. They're led by DT Vita Veta (6-4, 347), Ndamukong Suh (6-4, 313) and DT Steve McLendon (6-3, 310), a former Jet, is a part of the rotation as well.
"This year I feel like they're getting more awareness for the guys up front," Bucs staff writer Carmen Vitali said. "It's always been Vita, Suh and Will Gholston, who is coming into his own as a pass rusher. You had no Vita Vea for most of last season, but you have the continuity again and know the expectation. Todd Bowles' defense starts with stopping the run because you make an offense one dimensional if you take away the run. It's gotten to the point where they have that reputation now so I think opponents really don't even try a lot of the time to run on these guys."
Bucs WRs vs. Jets Young Secondary
The Buccaneers are dealing with injuries on offense. WR Chris Godwin, who leads the team with 98 receptions and 1,103 yards was placed on injured reserve last week as was RB Leonard Fournette, who leads the Bucs with 812 rushing yards and 8 TDs. Then the team placed WR Mike Evans, who has a team-high 11 TD catches, on the reserve/Covid list. Brady, however, has other good players at his disposal that he has chemistry with, such as WR Antonio Brown (10-101 in Week 16) and TE Rob Gronkowski, who has scored 9 TDs against the Jets in 15 games.
"It's a good room," Bucs HC Bruce Arians said. "I've marveled at the guys we've had on our practice squad the last couple of years. Cyril [Grayson] is one of the hardest-working guys we've had and each and every guy on our practice squad has a chance to be a player one day. The receivers room is good. Hopefully we'll get Breshad [Perriman] back this week."
The Jets are likely to be missing starting CB Bryce Hall (reserve/Covid), who started every game to this point and leads the team with 14 PDs.