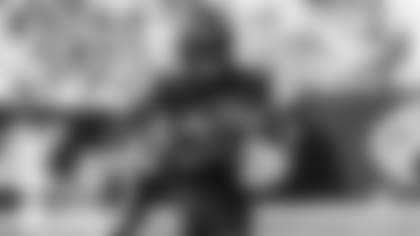 Hot Offense vs. NFL's No. 1 Defense
After averaging 13.3 points per game over the team's first six games, the Jets offense has averaged 32 points per game the past two weeks, No. 4 in the NFL in that span. The Green & White's 997 yards of total offense in the past two games is third-most in a two-game span in franchise history and their combined 812 net passing yards against the Bengals and the Colts are the second-most in back-to-back games.
This week, the Jets will face the NFL's No. 1 defense, which is atop the league in total yards (262.2 yds/g), passing yards (177.0 yds/g) and scoring (14.75 pts/g). It ranks top 5 in rushing and takeaways, too.
"They kind of slid back to the rest of the pack [in 2020]," Bills team reporter Chris Brown said. "The two years before that, they were No. 2 and No. 3 in pass defense and they were in the top 10-12 in points allowed. They're back to that this year mainly because of the continuity on that side of the ball. A lot of these guys have played together three or four years. … They have seven different players with interceptions this year.
"It's a defense that's designed to stop the pass, so if you can buck up and play physical with them at the line of scrimmage and run the football, you might be able to put some points on the board."
Jets D-Line vs. Bills O-Line
The Jets defensive line has had a mixed-bag performance in its past two games, particularly stopping the run. The Bengals totaled 41 yards on 16 carries (2.6 avg) in the Green & White's Week 8 victory. Then the Colts ran for 260 yards, averaging 8.7 yards per carry the next week. HC Robert Saleh told reporters on Monday that roughly 200 of those yards came before contact.
"When you see something like that, you immediately go to just trying to figure out what happened, how you can correct it and how you can fix some things," DT Sheldon Rankins said. "I'm confident in our coaching staff and those guys will, schematically wise, be able to help us. But all in all, it's going to come down to us. We have to be able to go out there and execute whether it's getting off blocks or straining and finishing plays, we just didn't play to our standard.
"I think, to a man in the d-line the room, we all feel like individually we're good enough to be able to create havoc and wreck games. For us to allow 7 yards before contact, that's not us. Just having to watch that tape and understand it's out there and there's two ways you can go from that; you can either succumb to that or you can ride up above it and continue to work, get better and flourish down this stretch of football that we have."
The Bills' 119.8 rushing yards per game ranks 11th in the NFL, but they haven't been able to run the ball consistently. Buffalo's leading rusher is Devin Singletary with 355 yards, but he's totaled 96 yards and no touchdowns on just 24 attempts (24 yds/g) over the team's past four games. The Bills have shuffled some pieces on the offensive line as starting LG Jon Feliciano was placed on injured reserve and will miss his second game on Sunday and rookie Spencer Brown, who started Weeks 4-6 at right tackle, missed the last two games. HC Sean McDermott, however, expects Brown to return to practice this week.
Back in the Meadowlands
The Jets are back at MetLife Stadium this weekend where they have a 2-1 record compared to 0-5 on the road. Saleh said he believes the team has played well in spurts on the road and has to first figure out how not to lose before figuring out how to win and finish games.
"It doesn`t matter what venue it is, it doesn't matter what the weather is, you pack your run game, you pack your defense, you pack your special teams and you trust that those three are the most consistent parts of your football team," Saleh said. "If you look at our road games, at least our last two run games, run defense didn't show up, run offense didn't quite show up, special teams, we had a couple of penalties that kind of hurt us in Indianapolis. Those three aspects of football have to show up if you want to have a chance to win on the road and those three represent mindset. We'll get there, but it is part of youth. But at the same time, it's not an excuse."