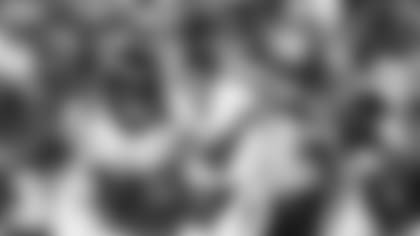 New Number Under Center
The Jets will start a quarterback not named Zach Wilson for the first time this season and Mike White will line up under center against the Bengals in what will be his first career NFL start. White replaced Wilson against the Patriots and completed 20 of 32 (62.5%) for 202 yards, 1 TD and 2 INTs for a 64.8 rating. His touchdown pass to Corey Davis came on his first career pass attempt, becoming the fifth QB to do so since 2008.
"He's a very calm man," HC Robert Saleh said of White. "He's a great communicator, he's got great command of the huddle, he's got great command of the offense. He understands progression reads and how to go through a progression, get the ball where it needs to go. He understands how to slide in the pocket to throw instead of slide in the pocket to run. He doesn't panic. If you look at his series from [Sunday], he did a good job. He went through his progressions, found the check downs, created explosive plays, took what the defense gave, but also created an explosive to Corey Davis. He was doing a really nice job moving the offense."
The Green & White also added a veteran and a familiar face earlier this week, trading for Joe Flacco, who won't join the team until Friday (personal reasons). He spent the 2020 season with the Jets, starting four games. He completed 55.2% of his passes and threw for 864 yards, 6 touchdowns and 3 interceptions before signing with Philadelphia in the offseason.
"Obviously Joe has been around the league and a is prolific quarterback. It was an opportunity that hit Joe [Douglas'] desk in the morning this week and it was something that we thought would be beneficial for the entire team especially with Zach being out for 2-to-4 weeks. It felt like we needed another quarterback in there to make sure we always have three on the roster."
Flacco, who has experience in this style of offense with Gary Kubiak in Baltimore, may not be active Sunday and Josh Johnson will be called up from the practice squad.
From Tigers to Bengals
The Bengals offense starts with QB Joe Burrow and WR Ja'Marr Chase. They played together at LSU and connected for 1,780 yards and 20 TDs in 2019. Through seven games this season, they've connected for 754 of Burrow's 1,956 yards and 6 TDs. Chase leads the NFL averaging 21.5 yards per reception as well as six receptions of at least 40 yards.
Chase and the Bengals receiving corps will line up against a Jets defense that allowed 54 points and 551 yards of offense, but Saleh is confident the group will improve its performance Sunday.
"It starts up front," he said. "It'll always start up front. We have to dominate the line of scrimmage and from there we have to keep our feet in the ground and play fast. It really is that simple. It's win one-on-one battles, pressure the quarterback, win in the run game. The Atlanta game, they did a really nice job getting rid of the ball quickly, felt like we adjusted in the second half and just didn't finish. Last game, everything fell off. I've been a part of those where it just happens. It's a prideful group. D-line will get going this week, linebackers, we'll get back C.J. [Mosley], so hopefully we get some stability in there and we get a chance to go play."
Bengals Defense Earning its Stripes
While the Bengals offense has been receiving a lot of attention, their defense has been playing at a high level. It ranks No. 10 overall, allowing an average of 339.9 yards per game and No. 5 in opponent points allowed per game (18.3). Cincinnati is the only team in the NFL to allow 25 or fewer points in every game this season.
"They were really candid in the offseason saying they weren't good enough [in 2020]," Bengals team reporter Marisa Contipelli said. "So the team went out in free agency and they spent the most money they've ever spent, bringing in guys and it's really showed through seven games. You start with the guys up front with Trey Hendrickson coming in from the Saints and Larry Ogunjobi from the Browns have been two huge additions. Trey Hendrickson already has 6.5 sacks. This team already has more sacks than it did in total last year.
"The additions they have in the secondary with Chidobe Awuzie and Mike Hilton, who have been playing tremendous through the first seven weeks. I can't say enough good things about Awuzie. … This defense is night and day defense from a year ago. You have to give so much credit to the scheme that Lou Anarumo has put on."