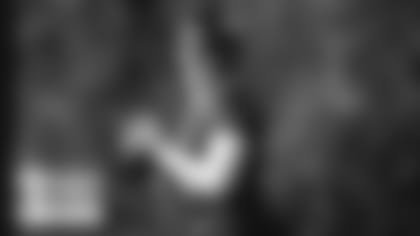 Start No. 7 for No. 2
For the first time since sustaining a PCL sprain in Week 7 at New England, rookie QB Zach Wilson will start for the Jets. He'll be the third QB to start for the Green & White in as many weeks. In his last start, he completed 6-of-10 passes for 51 yards while leading the offense on two scoring drives -- the first resulted in a missed field goal; on the second he moved the team to the 2-yard line before sustaining the knee injury.
"I really want him to pick up where he left off," head coach Robert Saleh said. "I don't think people realize he was getting better earlier in games. … He was getting better and we felt like he was about to go off in that New England game before he got hurt. Pick up where he left off and focus on the main thing, which is getting better and find ways to move the offense and score points."
The Jets offense has taken a step forward without Wilson and it's averaged the most yards per game since Week 8 with 435.8 yards per game. Saleh said with Wilson returning, the No. 2 overall pick doesn't need to try and make up for lost time.
"There's no pressure in that regard in terms of his surround cast," Saleh said. "The O-line, receivers, tight ends and backs, they've all been able to take a step in the last month, so slide right in and utilize all that improvement that's been happening around him. Just deliver the ball to the playmakers like he knows how and watch his playmakers go make plays."
Texans Takeaways
While the Jets offense could have a favorable matchup against the Texans defense, the Green & White have to take care of the ball. It's turned over the ball a league-high 23 times this season and the Texans are tied for fourth in the NFL with 19 takeaways. Houston had 5 turnovers in its win over the Titans last weekend, despite yielding 420 yards.
"When Lovie Smith signed here with the Texans, one thing they talked about was increasing the number of takeaways, that's what Lovie is known for," Texans team reporter Deepi Sidhu said. "This defense only had 9 takeaways in all of 2020. They've had 10 in the last two weeks alone, against Miami and the Titans. They had 4 interceptions against Ryan Tannehill and in the last two games, 6 interceptions by five players. If you haven't seen much of the Texans, the one thing you need to know is they're really good at taking the ball away."
Saleh added of the group: "So much respect for [Smith] and a lot of the principles we teach is all from that same Lovie, Monty Kiffin school of thought. They're doing a really good job of mixing things up, they have a young defense, very active front. Justin Reid, I had a chance to coach his brother, he's pretty damn good. They're a good group."
Explosives
The Jets defense did a better job limiting explosive plays against the Dolphins, but still allowed a 65-yard touchdown to WR Mack Hollins. Hollins went untouched on the score that put Miami ahead, 14-7, and head coach Robert Saleh said the bust was a result of poor eye discipline. The Texans, however, have not been an explosive team through 10 games. Houston's offense ranks last in the NFL in plays of 10+ yards, rushes of 10+ yards, and completions of 20+ yards. It's also tied for No. 31 in plays 20+ yards.
"I think our communication was really good for the most part," C.J. Mosley said of the defense's performance against the Dolphins. "Obviously, in the run game, we did a pretty decent job. They had some runs on us where they set up some scheme, some scheme type runs in our coverages. I think just as far as the technique standpoint for the most part and the things that was asked for each individual guy at their position, I think we did a good job executing. When we all were on the same page, we were getting off the field. 
"Obviously the explosive, we have to try to eliminate. And if they do get them, we have to try to not let the big plays turn into a touchdown. Make teams drive the field and try to force some field goals. We just have to build off of the good things that we did in this game and the things that we need to work on, continue to look at those and get better."
Table inside Article

| Category | HOU Offense | NYJ Defense |
| --- | --- | --- |
| Plays of 10+ Yards | 91 (32) | 155 (30) |
| Plays of 20+ Yards | 26 (T-31) | 55 (31) |
| Rushes of 10+ Yards | 12 (32) | 41 (T-29) |
| Completions of 20+ Yards | 23 (32) | 46 (30) |