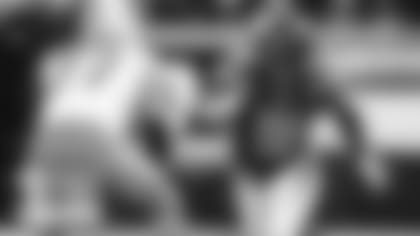 The Rematch
The Jets and Dolphins first played this season in Week 11 at MetLife Stadium in a 24-17 Dolphins win. This game, however, will feature different personnel for both teams. Jets QB Joe Flacco started against the Fins earlier this season, but rookie QB Zach Wilson is slated to start Sunday. WR Elijah Moore, who had a career-high 8 catches, 141 yards and a 62-yard touchdown reception against Miami, is now on injured reserve.
Wilson, who threw for 202 yards, 0 TDs and 0 INTs against the Saints last Sunday, will line up against a complex defense that offers different Cover-0 looks but ranks No. 28 against the pass (254.5 yds/g).
"He's the number two pick, he's extremely talented, he's got a great head on his shoulders, he's a phenomenal young man and these are the types of games he has to go through," HC Robert Saleh said of Wilson. "He has to learn how to play football in the NFL, he has to get these reps. There are always different schools of thought with sitting [the quarterback] and all that. If he was getting beat up and he was getting hit and he had zero chance, that's one thing.
"But I think the reps he's seeing, the defense he's seeing, being able to see a Dennis Allen-type defense and all the different things they do, and then being able to see a [Brian] Flores defense and being able to go through all those things, he's only growing off of all of this."
Miami enters Week 15 riding a five-game win streak in which it hasn't trailed by more than three points. The team is also coming off extended rest.
"We took the bye week to recharge the battery," HC Brian Flores said. "I think guys were excited to be back in here [Monday]. I definitely felt that in our meetings this morning. The schedule is the schedule and whatever it is, it is. I don't put too much – 'I wish it was here or I wish it was there.' It was where it was. We kind of use the bye week to heal up, to do some self-evaluation and we treated this one no differently. It's a little later in the year, but I think we come out of it trying to recharge the battery and we're anxious to get back out there."
Preparing the RPO
The run-pass option (RPO) is a staple of the Dolphins offense. It ranks No. 31 in rushing (79.2 yds/g) and 16th in passing (230.5 yds/g). Second-year QB Tua Tagovailoa, who has attempted more than 30 passes in each of his last three games, has been playing his best ball during the team's win streak with a 109.2 QB rating. He's completed 77.97% of his passes for 905 yards, 5 TDs and his only interception came against the Jets, courtesy of S Ashtyn Davis.
"We got a taste of [the RPO]," DC Jeff Ulrbich said. "I think we have a fairly good plan as far as defending it and knowing what's coming. It definitely helps that we played them. We got to do a better job than we did the first time around and we will." He added: "Their RPOs come out of some formations that we absolutely have to identify and understand, 'Okay, this is when it's coming.' You have to have great eye discipline, great discipline altogether was in the scheme within the defense. I think the fact that we played them and we're familiar with them, I think that definitely can help but we got to play better than we did the first time or we're not going to give our team a shot. I have complete confidence that we'll play better."
Shuffling Pieces
Both teams are dealing with lineup changes in different ways. Dolphins RBs Myles Gaskin, the team's leading rusher, Salvon Ahmed and Phillip Lindsay were placed on the reserve/COVID-19 list along with starting rookie S Jevon Holland, who had a pass defense and a fumble recovery in these teams' first meeting this season.
The Jets, on the other hand, are expecting a handful of starters back for Sunday's game. HC Robert Saleh told reporters that TE Tyler Kroft (chest), DE Bryce Huff (back) and RB Michael Carter (ankle) should all be activated off injured reserve this week. Carter had 9 carries for 63 yards (7 yd/avg) including a 39-yard run against the Dolphins before hurting his ankle in the third quarter. Saleh also expects rookie CB Michael Carter II (concussion) and RB Tevin Coleman (concussion) back, each after a one-game hiatus.