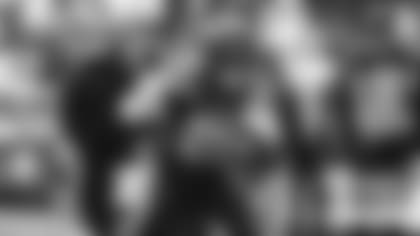 Ride the Hot Hand
The Bills defense is the NFL's best unit, allowing an average of 286.5 yards per game. It ranks in top three in passing defense (No. 1, 172.9 yds/g), third-down percentage (No. 2, 32.5%), points allowed (No. 2, 17.44 pts/g) and takeaways (tied for No. 3, 30). The group has allowed one 200-yard passer since Week 10, the last time these teams met (Tom Brady Week 14). A common denominator in the Bills' losses, however, is opponent's success running the ball -- the defense allowed a 100-yard rusher in four of the team's six losses. It ranks No. 19 in rush defense, allowing an average of 119.6 yards per game.
The Green & White, on the other hand, have had one of the NFL's best rushing attacks over the last two weeks. It ranks second with 211.5 rushing yards per game in that span and second with 6.82 yards per rush. The offense ran for a season-high 273 yards against the Jaguars in Week 16 and then had 150 on the ground against Tampa Bay's No. 3 rush defense while averaging 5.8 yards per carry. That was behind a banged-up offensive line that could be without LT George Fant (knee) in Week 18.
"I feel like our run game is really taking off," HC Robert Saleh said. "We're ninth in yards per carry, which is pretty impressive. We're generating a lot of explosives in the run game. Ty Johnson, Michael Carter, Austin Walter came in [Sunday], created some explosives. So, the ball has been distributed. It's a great testament to John Benton, our O-line coach, and the offensive line. They're playing their butts off and the scheme is really kind of a lot of pre-snap movement, a lot of deception and a lot of moving the line of scrimmage. It was pretty cool, and it's been awesome to watch because not only run game, but in protection, things have been really coming together, too. It's been cool to see the o-line develop the way it has."
C Dan Feeney, who started his first game of the season, in place of the injured Connor McGovern, had a 92.8 run-block grade on Pro Football Focus, which was the best among interior linemen in the NFL in Week 17. The team could also be without Carter, who had 54 yards on 3 carries last week, because he remains in the concussion protocol.
"I think when you look at the last two weeks, it's everybody," RT Morgan Moses said. "We lost Michael Carter earlier in the game and you see a plethora of backs come in and take on that role. You see it still thrive, I think it was like four yards a carry or whatever the case was. That's just everybody dialing in and having that next-man mentality and the guys that are not getting reps throughout the weeks are having that mental capacity to be able to take those reps that they get on the sideline and see and watch film and dial in. So, I think that's what you see.
January Football
Despite being eliminated from playoff contention, Saleh has stressed the importance of December football to his players. The team played at the Dolphins when they were fighting for a playoff spot and two weeks later, the Jets were two yards away from taking down the defending Super Bowl champion Buccaneers, who are fighting for playoff seeding. This week, in front of their home crowd, the Bills would win the AFC East for a second straight season with a win on Sunday.
"We've been talking about December football and all that, this is the first one that's going to feel that way," Saleh said. "Buffalo is playing for a division. It's going to be sold out, it's going to be loud, it's going to be cold, it's going to be everything you dream of as a kid in terms of going into a stadium and it just being as live and as juiced up as it's going to be, and we're going to get their absolute best shot. We got to give it right back to them. We got to make them earn it.
"It's just a really cool opportunity for us to go in there and feel the energy, feel the juice, feel what another team, who is playing for a division, feels like. How it feels to lean on them, how it feels to try to separate, how it feels to tackle them, how it feels to be tackled by them, the urgency at which they're going to play. It's a tremendous opportunity to grow a lot in this moment and it's something that I'm really looking forward to our guys to answering the bell on."
Redemption at Stake
This will be rookie QB Zach Wilson's first game against the Bills. In these team's first meeting, Week 10 at MetLife Stadium, Mike White started under center in a 45-17 loss. White threw for 251 yards, 0 TDs and 4 INTs while the offense only mustered 70 rushing yards. Josh Allen completed 75% of his passes for 366 yards, 2 TDs and 1 INT.
"Obviously, we know how the game went last time we played them when they were able to score all those points against us," DT Sheldon Rankins said. "Redemption is definitely in our hearts. Just understanding that when you play this game, the tape is your résumé. We're not trying to stand on the fact that when they put all those points up on us last time, we're trying to right the ship with this one and come out with a better effort and hold that offense to as minimal points and yards as possible."