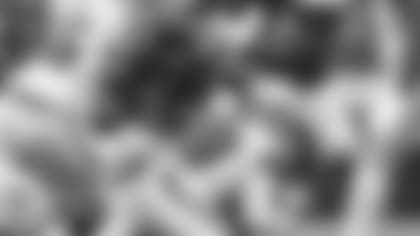 Sam Darnold vs. Raiders Defense
QB Sam Darnold struggled last week against the Dolphins after missing two games with a right shoulder injury. He completed 59.3% of his passes and threw for 197 yards and 2 INTs. Darnold, however, had one of his better performances of his NFL career against the Raiders last year with a 127.8 QB rating, the second-best of his career. He also threw for 315 yards and 2 TDs. The Jets will have opportunities to score -- the Raiders have allowed an average of 39 points per game in their last two. The unit is led up front with Maxx Crosby, who has 6 sacks this year.
"It's all about their front," Head Coach Adam Gase said. "They're coached by Rod Marinelli, which is a nightmare to prepare against because his guys play at a different level. They're relentless, they're set up correctly. They'll absolutely 100% be breathing down the quarterback's neck. We have to do a good job of keeping the quarterback clean, getting the ball out quick, making the right decisions. We have to protect the quarterback at all costs. We have to protect all our ball carriers because they'll try to create fumbles by pursuing. We're just going to have to do a really good job against their D-line because that's where it all starts and stops."
Jets Secondary vs. Raiders Offense
Raiders QB Derek Carr has thrown for 19 TDs and just 4 INTs, but was responsible for 4 turnovers last week in their blowout loss to the Falcons (3 fumbles, 1 INT). He leads the NFL's No. 17 offense (357.9 yds/g) and the No. 3 third-down offense (49.3%).
"He's playing with a chip on his shoulder," Gase said. "When quarterbacks are fumbling the ball, they're probably holding onto it a little longer. I know everybody kind of got on him the last four or five years about how he gets the ball out and plays a quick game and all that stuff. … He doesn't throw a lot of interceptions, he sees the field well, he runs the offense well and he's playing angry."
Las Vegas (6-5) added speed on the outside with WR Henry Ruggs III, who ran the fastest 40-yard dash at the NFL Combine last year; and Nelson Agholor. Carr's favorite target, however, is TE Darren Waller, who leads the team in receptions (64) and yards (542) to go with 5 TD receptions.
"He's a tough matchup whether he's in the interior of the formation, if he's singled up," Gase said. "He has a really good route tree, he gets open. He's not fun for either safeties or linebackers to have to deal with."
He added: "When you look at him, you can see he's a good-sized guy. He's not really one of those lean, don't-get-involved-in-the-running-game-type tight ends. He's a lot better than what people really give him credit for. He was one of those guys who nobody really talked about. They're talking about him now."
Jets DL vs. Raiders OL
The Jets' front seven was impressive against the Dolphins, totaling 4 sacks, 3 forced fumbles and 2 fumble recoveries. The group held the Dolphins to 16 rushing yards in the first half and will see the NFL's No. 5 leading rusher in RB Josh Jacobs, who is dealing with an ankle injury. The Green & White held Jacobs to 34 rushing yards last year. The Raiders have the No. 8 running offense and their offensive line started players with an average of 6-5, 327 last week.
"I want to see Quinnen Williams against Rodney Hudson and that massive offensive line of the Raiders," Jets' former LB Bart Scott said on The Official Jets Podcast. "There's no player that's playing better than Quinnen Williams. You saw the show he was able to put on [against the Dolphins]. They like to run the ball with Jacobs. It's going to be important that he doesn't get cut out of his gap and he's dominant, setting the edge from the inside out. You talk about 7 tackles, a forced fumble and 1.5 sacks, that's a pretty great day for an inside linebacker. It's an awesome day for a defensive tackle to have that type of productivity."