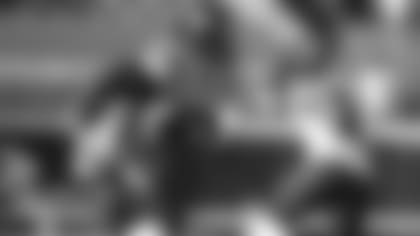 Cam Newton vs. Jets Defense
Cam Newton has been more efficient running than passing in 2020. He leads the Patriots with 298 yards on 59 carries (5.1 avg) and 6 TDs. He's thrown for 1,143 yards (190.5 yds/g), 2 touchdowns and 7 interceptions. He's also had a rushing score in four of the six games he's played in and hasn't had a passing TD in each of the l\past three games.
"The run game with him being able to do all the zone-read stuff, this is difficult when you see a guy this size moving at the speed he does," Head Coach Adam Gase said. "Guys have to do a really good job of following the rules we're going by on the zone-read stuff because the last thing you want to do is give a guy like this that kind of hole."
Newton last played against the Jets in 2017 with the Panthers -- he ran for 28 yards and 1 TD -- and the only two Jets who are still with the Green & White are S Marcus Maye and OLB Jordan Jenkins. Earlier this season the defense struggled to contain Bills QB Josh Allen (6-5, 237), who has a similar build to Newton (6-5, 245). Allen ran for a combined 118 yards and 1 TD in two games against the Green & White.
"When guys haven't played Cam before, they don't realize how big he is, how strong he is and that he's faster than what you realize," Gase said. "When he gets green grass, he can go. He has to play in a phone booth quite a bit himself and the times that I've seen him get in the open field, it becomes an issue."
Sam Darnold vs. Patriots Defense
The last time Jets QB Sam Darnold played against the Patriots was last season on "Monday Night Football" when he threw for 86 yards and 4 interceptions. The Jets expect that Darold will be surrounded by a starting WR threesome of Breshad Perriman, Jamison Crowder and Denzel Mims for the first time this season. Perriman (concussion) and Crowder (groin) missed the last two games while Mims has led the team in receiving yards in each of his first two NFL games. The Pats, who rank No. 9 against the pass, could also be without All-Pro CB Stephon Gilmore (knee) for a second straight game.
"The biggest challenge we're going to have is that we're going to see a ton of man coverage, we'll see a ton of press," Gase said. "We'll see a ton of zero [blitzes]. They don't play with any fear. These guys will come up on the line of scrimmage, challenge our receivers. They're going to load the box up, make us throw it. They're going to make us beat them outside. … We're going to have opportunities. We're going to have man to man, we're going to get press. It's all going to be about whether we win our one-on-one matchups."
Patriots WRs vs. Jets Secondary
Chiefs QB Patrick Mahomes threw for 416 yards and 5 TD passes against a Jets defense that will now face the NFL's No. 29 passing attack (192.0 yds/g). New England is last in the league with 14 pass plays of 20-plus yards and WR Julian Edelman, who leads New England with 315 yards, could miss Monday's game with a knee injury. Last week, WR Jakobi Meyers, an undrafted free agent in 2019, led the team with 6 catches and 58 yards.
"They're going to do all kinds of stuff [in the run game], but then you have to be ready for the play action off of that," Gase said. "You have to be very disciplined. It's a different style of football we're going to be playing than last week. Last week it was playing a track team. … This week it's more guys who necessarily aren't speed guys. It's going to be more completions underneath. We're not going to have the threat of explosive plays. You have to tackle well because that's how they get those big chunk plays. They get a guy open, you miss a tackle and they get more yards."