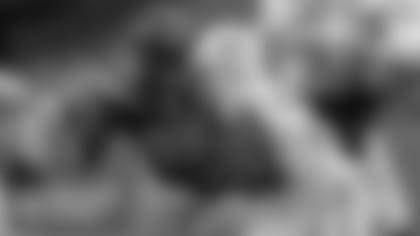 Jets WRs vs. Dolphins CBs
The Jets' wide receivers will face one of the better, if not the best, cornerback duos in Xavien Howard and Byron Jones. Howard is tied for the NFL lead with 6 interceptions to go along with 32 tackles and 12 pass defenses, and Jones was one of the most coveted free agents this past offseason.
"The one thing about X is that he has what you want in the aspect of when the ball is thrown in his area, he has great hands and really good ball skills," Head Coach Adam Gase said. "You want to make sure you do a good job of staying away from him. You have to take advantage of his leverages. You can't underthrow balls, you can't throw balls behind him. You have to be really careful around him."
Breshad Perriman and Denzel Mims continued to stretch the field in Week 11 against the Chargers and have averaged 21 yards per catch over the last two games. Perriman now has 7 catches, 155 yards and 3 TDs in that span, two of which were for more than 45 yards.
"The thing about Perriman that nobody realizes is he's very fast and he gets on you quickly," Gase said. "You don't initially feel it so you think you're in a good position and then all of a sudden he hits another gear and he's going to run right by you."
Gase added that Mims, who's received the second-highest number of press coverage in the NFL among wideouts with more than 20 targets: "He's had some releases where we definitely have to get fixed where he's gotten shut down whether it be at the line of scrimmage or tied up down the field, not getting as far as we need him to. But he's also had some really good plays where he's had good releases, good job attacking the football, good job even though a guy is all over him. He's still catching the ball and coming down with it."
Jets Defense vs. Tua Tagovailoa
Rookie QB Tua Tagovailoa made his NFL debut against the Jets in Week 6 in South Florida and took over as the starter for Ryan Fitzpatrick in the Dolphins' next game. Tagovailoa is 3-1 as the team's starter and has thrown for 602 yards and 6 TDs. He still hasn't thrown an interception, but he played his worst game last week against the Broncos (11 of 20, 83 yards) and was sacked 6 times. He was benched for Fitzpatrick in the fourth quarter.
"We just felt like Fitz gave us the best chance in that particular game, but Tua is the starter," Dolphins Head Coach Brian Flores said. "Again, he's young and he's developing and he's done some good things – I would say a lot of good things. Hopefully he continues to develop.
"This week is going to be a tough challenge against [Jets defensive coordinator] Gregg [Williams] and the multiple looks that he gives quarterbacks and really offenses in general. They've done a good job. They've done a good job stopping the run, they've done a good job in the red zone. I think this will be a challenge and again, I expect a tough, competitive, physical game against these guys like it always is."
Jets CBs vs. Dolphins WRs
The Jets secondary started a young unit last week with a pair of rookies on the outside in Bryce Hall (fifth round) and Lamar Jackson (undrafted). Chargers WR Keenan Allen had 16 catches, 145 yards and 1 TD, and Mike Williams had 4 catches for 72 yards and 1 score. The Green & White will now see the NFL's No. 26 passing offense (214.2 yds/g) with WR DeVante Parker on the outside, who leads the team with 44 catches, 523 yards and 4 TDs.
"I love the way he competes," Jets' former LB Bart Scott said of Hall on The Official Jets Podcast. "I love that he sets the edge forcefully in the run game. I like that he's willing to go out there and not just bailed out of there. For the most part, he was right there and he went up against a tough wide receiving corps. I want to see if he can try and slow down DeVante Parker and see what that's like. You think about Keenan Allen and Mike Williams and what they bring, now you're going against a taller, 6-5 receiver with a huge catch radius who can play the game vertically."