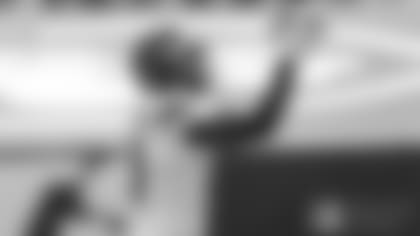 DeVante Parker/Preston Williams vs. Jets CBs
The Dolphins have two big-bodied wide receivers in DeVante Parker (6-3, 211) and Preston Williams (6-5, 218). Parker leads the team in receptions (14) and yards (326) and is tied for the team lead with 2 TDs. Williams is averaging a staggering 19.5 yards per reception and had his best game of the season last week against the 49ers with 4 receptions for 106 yards and 1 TD. Last season Williams had 5 catches for 72 yards and 2 TDs against the Jets in South Florida before he sustained an ACL injury and was placed on IR.
"They do a great job with these vertical routes as far as using their size and speed to their advantage," Jets Head Coach Adam Gase said. "The guys do a good job of tracking the ball. Any time you can get these takeoff routes, these go routes, you get one-on-one matchups and you have these guys that can play above the rim, as a quarterback, you're afraid to throw it up and let them go get it."
Gase added about Williams: "He's a tough cover. He definitely has the size advantage, he has really good ball skills, he has good speed. It makes it a really tough outside combination with these two guys being as big as they are."
Miami QB Ryan Fitzpatrick is coming off his best performance of 2020 as the Dolphins beat the 49ers, 43-17, on the West Coast. He threw for 350 yards and 3 TDs while completing 78.6% of his passes for a 154.5 quarterback rating.
"The hardest thing about Fitzy is he's super slippery," Gase said. "If your rush lanes are incorrect and you give him a big enough window, he's going to figure out a way to use your momentum against you where you're rushing up the field and he slides right through that hole and takes off. There's always some pump fake and you never know what he's going to do. He could no-look pass you. He's been doing the same thing for so long. Ever since he started playing in the league, he's always caused the defense problems."
Xavien Howard/Byron Jones vs. Jets WRs
Dolphins CB Xavien Howard didn't play against the Jets in 2019, and played in five games before he was placed on injured reserve (knee). Now healthy, Howard, who tied for the NFL lead with 7 INTs in 2018, sits atop the league with three other players – including Jets CB Pierre Desir – with 3 INTs. Howard has had an interception in three straight games and is now flanked by Byron Jones, who joined the Dolphins in the offseason after five years with the Cowboys.
The Jets WRs could receive reinforcements on the outside in Breshad Perriman, who was limited in Wednesday's practice for the first time since sustaining an ankle injury in Week 2.
"It's a blessing to be back out there," Perriman said. "I've been waiting long enough. It's always hard sitting out watching your teammates play. I feel good. I think Sunday looks pretty good for me right now."
QB Joe Flacco, who will start Sunday for the injured Sam Darnold, played with Perriman with the Ravens from 2015-17 and added: "When he's healthy and he's rolling, he's a tough guy to cover. He can bring a lot of explosive plays to your offense, so it'll be exciting to get him back out there. It was nice to see him back out at practice [Wednesday]."
Battle of the Boots
Jets K Sam Ficken and Dolphins K Jason Sanders are two of five NFL kickers who have not missed a field goal or an extra point this season. Sanders was named this week's AFC Special Teams Player of the Week after a five field-goal performance and is the only kicker still perfect with double-digit field-goal conversions. He's 14 of 14 with a long of 52 and has made 10 extra points. Ficken has made all 9 field-goal attempts and 6 extra points.