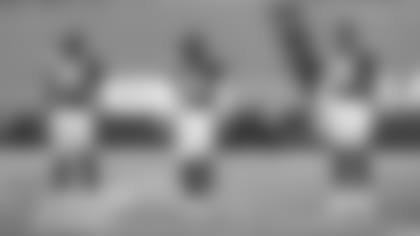 Jets Defense vs. Patrick Mahomes
Chiefs QB Patrick Mahomes, the NFL's MVP in 2018 and Super Bowl LIV MVP, is a tall task for any defense. He has a 30-8 record in the regular season and has thrown for 11,311 yards, 92 TDs and 19 INTs in his career, with a 109.1 QB rating.
"I'm just speaking from my limited time in the NFL, I've never seen a guy this good at quarterback," Head Coach Adam Gase said. He added: "He has everything you can possibly imagine. He's smart, phenomenal. He's dialed into what they're doing, he knows his players, he's a great leader. Nothing but positives to say about the guy."
In 2020, Mahomes has 1,899 passing yards, 16 TDs and 1 INT while completing 65.7% of his passes, which begs the question, how do you go about slowing him down?
"You want to make sure you double everybody, keep two high safeties and say if you're going to beat us, it's going to be because you run for 300 yards and you hope those running backs get tired as opposed to letting Mahomes kill you with one-play strikes," the Jets' former LB Bart Scott said on The Official Jets Podcast. "You make Clyde Edwards-Helaire make sure he holds on to the ball and when you get there, you get there angry and you make sure you send him a message. You hope during that process, someone jumps offside, somebody has a holding call. You force them to have to block you and hopefully they get behind the sticks. That's when you can get punts.
"We've seen the strategy of what teams have tried to do. We've seen the Chargers and what they were able to do and accomplish in [QB Justin] Herbert's first start, making sure they were attacking him with four people. If you blitz him, he's going to make you pay for the blitz because you're going to have one-on-ones with so many guys who can run fast. The natural instinct for the corners is going to be able to play off and give a cushion. Well , Mahomes has learned how to give you death by 1,000 paper cuts because he'll throw that 10-yard, 15-yard comeback until you dare come up there. Then that's when he's going to try to go over your head. You have to stay disciplined and stick to the game plan no matter if he has success or not."
Jets Secondary vs. Chiefs WRs
The Jets defense didn't allow a touchdown against the Bills, but yielded 422 yards, 296 of which came through the air. The Chiefs, the defending Super Bowl champions, have a number of receiving options, such as TE Travis Kelce, who leads KC with 40 catches and 501 yards. His 5 TDs are tied for the team lead with speedster Tyreek Hill, who is flanked by another burner in Mecole Hardman. Gase said that Hardman, who averages 16.7 yards per catch, is the perfect complement to Hill.
"He's a little bit bigger bodied, but there's a lot of similarities in the aspect of they can both carry the ball in the run game, they both can stretch the field," he said. "They both do things underneath, they're both tough. This is a tough group to play against."
He added: "You don't know what you're going to get against these guys. They could show up and could play the whole game in four wide. They could show up and play the whole game in three tight ends, one wide receiver looks."
Sam Darnold and Jets Offense vs. Chiefs Defense
The Chiefs have an all-world offense, so their defense is frequently -- and mistakenly -- overlooked. The unit has given up 20 points or fewer in six games this season and ranks No. 2 in the NFL with 13 takeaways.
"They have two legit dudes up front with Chris Jones and Frank Clark," Gase said. "They have Honey Badger [Tyrann Mathieu] in the back end, who controls everything. Him being there has created an unbelievable attitude on that defense where they think they can stop anybody on any given Sunday, and they play like that. They play confident, they create turnovers, they score. They're a very difficult defense to go against, and then schematically they're tough. You're really not sure what you're going to get from snap to snap. They're all over the place."
The Jets are going to need all the firepower they can muster against the Chiefs, who average 31.1 points per game. The Jets could be without a pair of starting WRs in Breshad Perriman (concussion) and Jamison Crowder (groin). Neither practiced on Wednesday, which means the Jets could lean on their tight ends more.
"The defense is going to have their hands full, we know that, so we have to pitch a perfect game offensively in order to give us a chance to win in Kansas City," TE Ryan Griffin said. "We know it's a tall challenge, but we're looking forward to it."