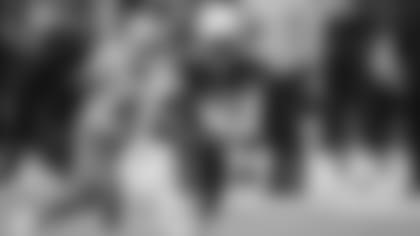 Kyler Murray's Legs vs. Jets Rush Defense
The last time the Jets played a quarterback as elusive as Cardinals QB Kyler Murray was last season against the NFL's MVP Lamar Jackson, who ran for 86 yards on 8 carries (10.75 avg). Murray leads Arizona with 265 rushing yards and 4 TDs on 32 rushes for an average of 8.3 yards per carry.
"What you do is what we used to do with Michael Vick," former Jets LB Bart Scott said on The Official Jets Podcast. "You distort his vision because you know he can't see over the top, so he has to see through lanes. You have the two tackles crossing or you run the [defensive] end up and you bring the outside linebacker underneath into the A-gap, so what he sees is color in every hole. What he would have to do is move so he can see. That slows him down from being able to decipher what the defense is, he can't see the rotation of the safeties."
The Jets have allowed an average of 129 yards per game on the ground after finishing No. 2 in the NFL against the run in 2019. Murray (5-10, 207) is both quick and fast -- a dual threat. Jets' Head Coach Adam Gase said that Murray, who has completed 68.8% of his passes for 919 yards, 5 TDs and 7 INT, has "all the throws."
"The guy has wide-receiver speed, he's tough to catch and he's tough," he said. "He's not soft. He'll stand in the pocket and deliver the ball. He doesn't look at the rush. He feels things as well as anyone."
DeAndre Hopkins vs. Jets Secondary
The Cardinals added one of the NFL's best wideouts this offseason in DeAndre Hopkins (6-1, 212), a four-time Pro Bowl selection and a three-time first-team All-Pro. He leads the league with 39 receptions for 397 yards and 1 TD.
"Obviously his height, speed, weight and all that stuff is where you want it," Gase said. "His hand size is double what most humans are. He's got enormous hands. The ball looks like a little kid's nerf football in his hands. His ability to track the ball down the field, make the tough catches inside, he can run every route in the book, his speed is off the charts. He has really good quickness. He checks every box as far as a wide receiver and the top-five categories of this league. He's a nightmare to go against. I went against him in 2018. You talk about a guy putting pressure on the defense, it was not fun for our defensive players."
Gase added: "You try to make it as hard as you can on third down, but you have to know on first and second down, he's going to get catches. It's about, are you going to allow him to hit a home run?"
OL vs. Chandler Jones
Cardinals OLB Chandler Jones should be mentioned in the same breath as the league's top pass rushers. Jones (6-5, 265) hasn't had fewer than 11 sacks since he joined the Cardinals in 2016, and had 19 sacks last season. Last season he also tied the NFL lead with 8 forced fumbles. Jones has had double-digit sacks in six of the last eight seasons – he had 6 as a rookie in 2012 and 6 in 2014 when he played in 10 games. The Jets could be without rookie LT Mekhi Becton, who did not practice Wednesday after he left Thursday's game with a shoulder injury.
"He affects games in multiple ways," Cardinals HC Kliff Kingsbury said of Jones, who is still looking for his first sack of the season. "The sacks will come. He's playing at a high level, he's being disruptive, he's garnered a lot of attention when you put those types of numbers up in previous years. You're going to get the chips and the tight ends stay in to help and all those things and directing slides his way. That's what he's got, but I thought he's played at a really high level throughout the first four weeks and those sacks will come."