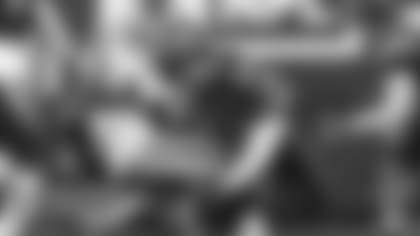 Mekhi Becton vs. Myles Garrett
Much like last week against Aaron Donald and the Rams, the premier matchup against the Browns will be in the trenches. Unlike Donald, Browns DE Myles Garrett (6-4, 272) almost exclusively lines up against the tackle and will likely go toe-to-toe, head-to-head with rookie LT Mekhi Becton (6-7, 363).
"You have to get your hands on him and you have to play longer than he plays," Head Coach Adam Gase said. "Myles Garrett is going to bring it and he's going to bring it for four quarters. He's not a guy who's not going to get involved in this game. He's a tough guy to completely take out of it no matter what you do – double-teaming him, chipping him, putting three guys on him. He's going to find a way to get involved, we just have to do a good job of getting the ball out and put ourselves in a position to where he can't wreck the game."
Garrett has 11 sacks this season, which is tied for No. 5 in the NFL, and has 41.5 sacks in 49 games. He had 7 sacks in three games against the Jets in addition to 7 TFLs and 9 QB hits.
"Myles Garrett is, to me, the most complete pass rusher in the game," Jets' former LB Bart Scott said on The Official Jets Podcast. "He's a guy who can beat you with size, speed, strength, athleticism. I think he poses a problem for Becton because he's not just one dimensional. He's a guy who can do multiple things. He can long arm him, he's great with his hands, he can bend at the hips and he's explosive and powerful. Call it the clash of the Titans."
Jets Defense vs. Nick Chubb, Browns Run Game and Play Action
The Jets will play against the NFL's No. 3 rushing offense Sunday, led by RB Nick Chubb and Kareem Hunt. Chubb ranks fifth in the NFL with 931 rushing yards and leads RBs averaging 5.6 yards per carry. He also has 10 rushing TDs. Hunt has 793 yards on 184 rushes (4.3 avg) and 5 TDs. He's also a threat out of the backfield and has 34 catches, 259 yards and 5 scores.
"The Browns have been able to run against pretty much everybody," Scott said. "Nick Chubb, if he didn't get injured early in the season, probably would have been right up there with Derrick Henry for the rushing title. … [Hunt] may not look like he's the shiftiest or fastest, but he's a guy that just finds a way to get open and is great at catching the football when it's in the air, high pointing it, catching it with his hands and making guys pay."
In addition to two talented backs, much of Cleveland's success on the ground can be attributed to their revamped offensive line with RT Jack Conklin (signed in free agency) and LT Jedrick Wills (No. 10 overall selection in 2020) coached by Bill Callahan. The Browns run a play-action-oriented scheme, which took QB Baker Mayfield some time to get used to according to Cleveland.com beat writer Mary Kay Cabot. Mayfield has been on a tear the last four games. He's completing 70.2% of his passes and has thrown for 1,232 yards, 10 TDs and 1 INT for a QB rating of 117.7. He's also been sacked just three times in that span.
"Now that the lights have come on for Baker Mayfield, he's able to run everything off of that play action," Cabot said. "They disguise whether it's going to be a run or a pass and he's executing it to perfection. He has so many skill players around him to help him pull this off. Great protection, great skill players, a great running game and it's been a recipe for success."
Sam Darnold vs. Browns Secondary
Sam Darnold is coming off his best performance of the 2020 season, against the NFL's No. 1 defense. He completed 71% of his passes, his best mark since Week 6 of last season, and finished with a season-high 99.8 QB rating against the Rams. This week he'll face the NFL's No. 21 pass defense (246.5 yds/g) and the No. 23 scoring defense (26.7 pts/g).
"There are opportunities down the field [against the Browns]," NFL Network analyst Brian Baldinger said. "They're not a great secondary. Even Denzel Ward, No. 21, is their best corner, but he's 5-9. You can get over the top of him and they just break down. If you can block them up front, and that's a handful, but if you can block them up, there are opportunities down the field for big plays."