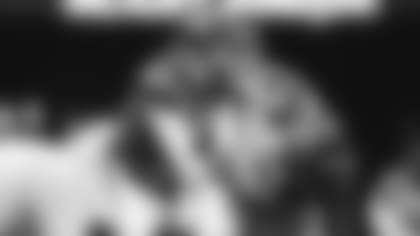 Sam Darnold vs. T. J. Watt/Minkah Fitzpatrick
Jets QB Sam Darnold will have his hands full against the Steelers pass rush and secondary. Pittsburgh's 49 sacks are tied for first in the NFL. Outside linebacker T. J. Watt is No. 5 in the league with 13 sacks and Bud Dupree has 9.5.
"They're playing lights out," Coach Adam Gase said. "They're aggressive, great on the one-on-ones. They pursue the ball as well as you could ever ask any defensive player. Those guys are running down the field, popping balls out. You have to protect the ball all the way to the ground."
The Steelers allow 204.1 passing yards per game, which is No. 5 in the NFL. Rams QB Jared Goff is the only quarterback who has thrown for more than 200 yards against their defense since Week 7. Pittsburgh's 25 takeaways are No. 2 in the NFL. Darnold has thrown 12 interceptions this season, but has limited his turnovers of late: He threw 9 interceptions in his first five games this season compared to 3 INTs over the last six games.
"This Steelers team is fueled by their defense and their takeaways," NFL Network analyst Brian Baldinger said. "They celebrate together. It's a mentality. The Steelers defense feels like they need to take the ball away. The mentality with Pittsburgh is they create takeaways. They're amongst the best in the NFL at taking them away and they expect to take it away. The Jets have to deal with that as an offense."
Jets D vs. Duck Hodges
Devlin (Duck) Hodges on Sunday will start his fifth game at quarterback for the Steelers. Hodges, who signed in May with Pittsburgh as an undrafted free agent, has completed 67.8% of his passes and has thrown for 884 yards, 5 touchdowns and 6 interceptions, 4 of which came last week against Buffalo. He hasn't thrown for more than 212 yards and 1 TD in any game this season.
"He's done a good job of what they've asked him to do," Gase said. "They're asking him to manage the game. They're taking shots down the field. They might not hit them all, but they're keeping the defense honest and they're running the football. He's done a good job of not turning the ball over. I know last game was a little different. That's why they have him in there, he's doing what they ask him to do."
Jets Secondary vs. Steelers WRs
The Jets' banged-up secondary could get help this week. Safety Jamal Adams and CB Arthur Maulet have each missed the last two games and were limited at practice on Wednesday. Nickel CB Brian Poole is still in concussion protocol, but can do non-contact field work, which is an improvement from last week.
"I'm ready to get back out there and help my team however I can," Maulet said. "I just miss it. It's aggravating not being out there with my teammates. I wouldn't say it's a big deal, but obviously we're going to help out. We're going to bring energy. We're high-energy guys and we're going to get our guys riled up to do their job and we're going to do our job to try to get a good team win."
Steelers' No. 1 WR JuJu Smith-Schuster has missed the last four games with a knee injury (limited in Wednesday's practice), but the Steelers WR corps has been impressive without him. Rookie Diontae Johnson leads the Steelers with 47 receptions and 2 touchdowns. He ranks second on the team with 545 yards. James Washington, a second-year pro, leads Pittsburgh with 694 yards and is No. 5 in the NFL averaging 17.8 yards per catch.
"They're very explosive guys," Maulet said. "They do a lot of run after catch, a lot of quick game. They try to take the top off and do deep shots down the middle of the field. One thing I do that I pride myself on is that I respect everybody that I play against. I don't say one is better than the other. I give them all equal respect. I think it's going to be a good challenge."