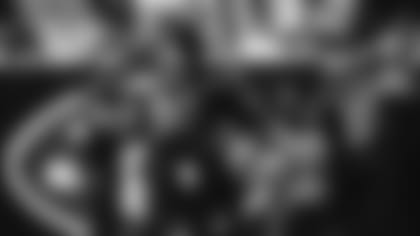 Adrian Peterson/Derrius Guice vs. Jets Rush D
The Jets are coming off their most impressive performance against the run as they held Saquon Barkley to just one yard on 13 carries last Sunday. The Green & White now rank No. 2 against the run (81.9 yds/g) and No. 1 in yards per attempt (3.0).
"It was amazing how they shut down the Giants running attack and they've been doing it all year long," said Redskins HC Bill Callahan, who later added, "I think the big thing that you can see when you look at film of the Jets is the array of coverages that they play, the disguises that they come from, the locations that they're coming out of can be quite confusing. I thought they did a really good job against the Giants last week.
"It's pretty well-documented on film that they'll change up week-to-week, so preparing for not only what you see on film from the past week, but also trying to anticipate what you'll see the following week gives you a full agenda to work on."
The Redskins' backfield features the ageless 34-year-old Adrian Peterson, who leads the Redskins with 491 rushing yards on 115 carries (4.3 avg) and one touchdown. However, second-year back Derrius Guice is eligible to return after hurting his knee in Week 1.
"A lot of the time we go on the tape that we do have and if you don't have tape perhaps you get it from another team or college, but at some point, you have to just line up and play ball," said DL Nathan Shepherd, who registered three tackles for loss and a sack against the Giants. "The fit and the scheme of what we're doing is going to be tailored to the individual player, so we get our scouting reports and things like that. Then you watch film following those keys and that gameplan."
Dwayne Haskins vs. Jets Secondary
Despite the victory Sunday, Daniel Jones threw for 308 yards and four touchdowns against the Jets' banged-up secondary. They'll face another rookie this week in Dwayne Haskins, who was drafted with the No. 15 pick in April. The Ohio State product has completed 61.4% of his passes this season while throwing for 284 yards, zero touchdowns and four interceptions in three games (1 start). 
"The Jets are a very good defense, they're very active," Haskins said. "[Safety Jamal] Adams makes a lot of plays and they do a really good job of disguising coverages, being able to do different things out of different looks and having guys do different responsibilities. There's a lot of different things as far as getting to different coverages, but it's just Cover 2, Cover 3, Cover 1 at the end of the day and it's just how you get to it and that'll come with repetition throughout the week."
Jets OL vs. Redskins DL
The Jets offensive line, now without RG Brian Winters, will play against a stout Redskins front whose 21 sacks are tied for 21st in the NFL with the Buccaneers and Texans. Their pass rush features four former first-round picks — Ryan Kerrigan (2011, No. 16), Jonathan Allen (2017, No. 17), Daron Payne (2018, No. 13) and Montez Sweat (2019, No. 26) — whose average height and weight is 6'4", 287 pounds.
"Their D-line is definitely part of the core of their defense," Jonotthan Harrison said. "They rely heavily on their front. They have a lot of strong guys up there. Offensive line-wise, we have to be prepared to battle and wrestle around these bears. They definitely have some great players up front, but our mentality is that we don't want to approach that with focusing on one player individually. Everyone has to do their job every single play and that's the only way we can have success on offense."