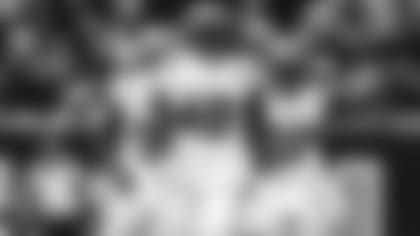 Lamar Jackson and Mark Ingram vs. Jets Run Defense
The Ravens' offense runs through the NFL's best rushing attack. Baltimore averages 200.9 yards per game, 51 yards a game more than the 49ers' No. 2 ground game. Quarterback Lamar Jackson is ninth in the NFL with 1,017 rushing yards and his 6.74 yards per carry paces the NFL. Three spots behind at No. 12 is Mark Ingram, who's rushed for 887 yards and 9 touchdowns this season on 181 carries (4.9 average). Gus Edwards, the Ravens' third-string running back, has 95 carries for 480 yards (5.1 yards per carry) and 2 TDs.  
"We can be schematically very sound, but athletically, can you match up in the space with Lamar?" defensive coordinator Gregg Williams said. "And you see him cause people to miss so many times when they've got hat for hat, they've got person for person — sometimes two people out there. And he still can make you miss. We've got to do a good job with our swarm, we've got to do a good job with how we schematically handle things."
The Jets rush defense is No. 2 in NFL, allowing 78.8 yards per game, and No. 1 in the league allowing 3.0 yards per carry. The Dolphins ran for 112 yards last Sunday, which is the most the Jets have surrendered since Week 6 (129 vs. Cowboys)
"They've been playing really well," Ravens Coach John Harbaugh said. "We've played [Gregg] quite a bit over the years going all the way back to Tennessee. He's unique in what he does, very good at what he does. He always creates problems for the offense. He's just got a lot of tricks up his sleeve, but it's always based on fundamentally sound defense, guys running to the ball, very aggressive style. I think he tries to make a statement with his guys and they do a great job with it."
Mark Andrews and Hollywood Brown vs. Jets Secondary
Jackson is also dangerous throwing the ball. He leads the NFL with 28 TD passes and an 8.1 passing-TD percentage, despite averaging a modest 205.9 yards per game. His 109.2 passer rating is No. 4 in the NFL. Jackson's favorite receiver is TE Mark Andrews, who was limited in Tuesday's practice because of a knee injury. Andrews leads the team with 54 receptions, 707 yards and 7 TDs. Jackson, however, has thrown touchdown passes to nine different players.
"We really are built comprehensively around Lamar," Harbaugh said. "The tight ends are very diverse. Mark Ingram is a blocker, but he's also a very good pass receiver. The wide receivers are very good receivers, but they'll block. We have run-blocking and pass-blocking offensive linemen, so they're versatile also. We have guys around him that definitely enhance his skills. It's never a one-man show and Lamar will be the first one to tell you that. Those guys have done a great job around him."
Sam Darnold vs. Ravens D Turnovers
The Ravens No. 6 defense is stout against both the run (No. 6) and the pass (No. 9), but they excel in capitalizing on opponents' mistakes. They've forced 20 turnovers (tied for No. 6) this season and lead the league with 107 points scored off turnovers. Jets QB Sam Darnold is tied for eighth in the NFL with 11 interceptions.
"I think the No. 1 goal for any team attacking the Baltimore Ravens is actually on the offensive side," former Jets QB Chad Pennington said. "You have to keep Lamar Jackson off of the field. If you remember when Peyton Manning played, no one wanted to see Peyton Manning on the field for a long period of time because you knew he was going to score points. Same thing with Lamar Jackson, but he's just doing it a different way."