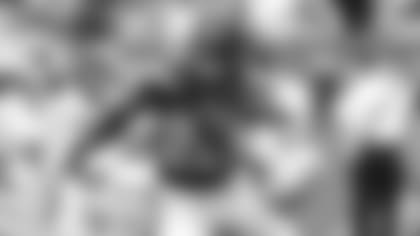 Jets RBs vs. Raiders Rush D
The Green & White rushed for a season-high 115 yards on the ground last Sunday against the Redskins on a season-high 31 carries that were split between four running backs — Le'Veon Bell (18), Bilal Powell (7), Josh Adams (4) and Ty Montgomery (2). In Week 12, the Jets will face the Raiders' No. 17 rush defense that's allowing 105.9 yards per game. Bell hasn't gained more than 70 yards on the ground this year, but head coach Adam Gase said he's still done a good job.
"Him getting used to the line is always beneficial because you can get a feel, but he's done a good job of understanding what we're trying to do, be efficient and stay ahead of the sticks," Gase said. "We're lacking explosive plays right now, but if we just keep hammering away at what we're doing, then those will come. They just haven't yet."
Josh Jacobs vs. Jets Run D
The Green & White confront another challenging matchup in rookie RB Josh Jacobs, whose 923 yards ranks fourth in the NFL. Jacobs, this year's No. 24 overall pick, has rushed for at least 100 yards in four of his last six games and has eclipsed 120 yards in three of those games.
"He's a good back," S Jamal Adams said. "I don't think I played against him while I was in school, but he's a good back. I've watched him, I have a lot of respect for him and he's a guy that's going to be downhill. We have to get to him before he gets to the second level because he can be special. We have to slow him down as best as we can."
But more than Jacobs, the Raiders' OL is one of the league's top units, bolstered by the offseason additions of LG Richie Incognito (6-3, 325) and RT Trent Brown (6-8, 380). The large humans on Oakland's starting OL average 336 pounds.
"They have a pretty stout offensive line," Jets' OLB Jordan Jenkins said. "They have Richie, they have Trent, they have some pretty big guys up there. Josh is a downhill runner, a hard-hitting back. He's almost at 1,000 yards and he's making some strides. He's a really good runner."
Fellow OLB Brandon Copeland added, "They have a great run game. They all move and think as one and in unison. Obviously when you're playing a team like that, discipline in your run gaps and run fits is going to be crucial to us having success and trying to stop them."
Jets Third-Down Defense vs. Raiders Third-Down Offense
While the Jets defense has played well the past two weeks (against the Giants and the Redskins), the Raiders pose a much different challenge. Led by Derek Carr, who's completing a career-high 72.3% of his passes, Oakland has the league's third-best third-down offense, converting nearly half the time (48%).
"It's something that we've been focusing on because we know we're capable of being better on third down," Jets' DL Henry Anderson said. "For us up front, continue to find ways to get more pressure, winning one-on-one matchups, getting in the quarterback's face and if we're not going to get to the quarterback, at least get a hand up or hit him and affect the throw in some way to help the guys in the back end."