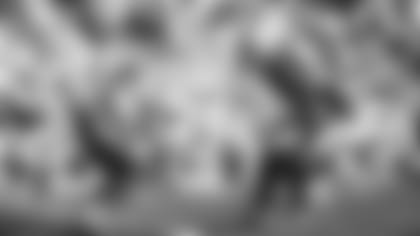 Jets WRs vs. Pats Secondary
While Tom Brady is considered arguably the best QB of all time and still playing at an elite level, the Patriots defense, particularly against the pass, has been leading the charge for head coach Bill Belichick in 2019. Led by CB Stephon Gilmore and S Devin McCourty, who leads the NFL with four interceptions, New England is allowing an average of 161 passing yards per game, which ranks No. 2 in the NFL. Robby Anderson has totaled 15 receptions for 169 yards and zero touchdowns in seven games against the Patriots, but is coming off a season-high five-catch, 125-yard, one-touchdown performance.
"I think Robby has done a good job, at least putting on tape," Adam Gase said. "I know we haven't hit him a ton on a lot of these different routes, but where it can create doubt for [Gilmore] is seeing that [Anderson] is running the whole route tree. So, Gilmore has to respect that and at the same time Robby has to understand who he's going against and he has to use certain techniques to help get freed up."
Anderson added of Gilmore, "It's a challenge. I have a lot of respect for him, he's a good corner. … He's very smart and a talented player."
The Jets offense is coming off its most prolific performance in Week 6 against the Cowboys, totaling 382 yards, 326 of which came through the air. Anderson (5-125), Jamison Crowder (6-98) and Demaryius Thomas (4-62) combined for 285 yards on 19 receptions with Sam Darnold back under center.
"I think we're still kind of in that weird stage of trying to figure out exactly who we are," Gase said. "But I think once you kind of figure out who you are, commit to it. Sometimes it takes some time within the season, four or five games. We just haven't really been a whole offense. Last game was the first time."
Jets Third-Down Offense vs. Patriots Third-Down Defense
Even though the Jets are coming off a season-high in yards and points (24), the offense has to be better on third down. The unit went 2-for-10 (20%) against the Cowboys and are converting just 21% for the season, which ranks last in the NFL. The Patriots, on the other hand, are holding teams to a league-best 14% conversion rate on third down.
"If you want to have a chance to beat this team, you stay out of third down," Gase said. "I think in years past, any time there's been good games against these guys, it' been six, seven or eight third downs max. You stay out of third down, you keep them out of the exotic stuff. That means you're running the ball well, you're hitting efficient plays in the passing game. That's what you have to do to give yourself a chance in the fourth quarter to win the game."
Special Teams
In order to beat the Patriots, you need to play well in all three phases of football. In Week 3, the Jets special teams put the Green & White on the board after recovering a muffed punt for a TD. Field position is also key against New England and Lachlan Edwards pinned the Pats inside their 20-yard line three times in Foxborough.
"It's more about the fundamentals when you're playing this team," special teams standout Rontez Miles said. "You could see in their Buffalo game, they affected the game. They blocked a punt and I think they blocked another the following week. This team, they play sound all around and just as important as the defense and offense is, special teams is as well. One of the things I take pride in, and so do we, we know they're going to play hard. That's never the problem. It's about smarts and being fundamentally sound. The more fundamentally sound team is going to have a chance."