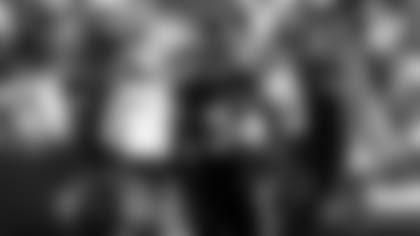 Tom Brady/WRs vs. Secondary
The Jets defensive backs will face off with a stout receiving corps that includes Super Bowl MVP Julian Edelman and Josh Gordon in Week 3.
"You have to be on your A-game," said cornerback Darryl Roberts, who registered his first interception of the season against the Browns Monday night. "You just have to know your matchups. If you're on Edelman in the slot, you're probably going to get a bunch of option routes, quick throws. If you're outside with a bigger receiver like Gordon, you have to play bigger, more physical."
The Jets secondary had a challenging matchup against the Browns with Odell Beckham Jr. and Jarvis Landry, but Sunday will be a true litmus test for the group against the Brady bunch.
"This is a good challenge here," head coach Adam Gase said. "I think this is the kind of matchup, if you're a defensive player, you want this matchup. You know where you're at after this one. You know what we need to fix, how much better we need to get, where are our weak spots. They're going to attack those types of things and we have to do a good job of playing good team defense, complementary football in all three phases. We're going to know where we're at after this one."
Luke Falk vs. NFL's No. 1 Defense
You could compare QB Luke Falk's NFL debut to learning how to swim by being thrown in the deep end of a pool. Falk was promoted off the Green & White's practice squad hours before taking on the Browns and was named the team's starter, until Sam Darnold returns from mono, the following day. And in his first professional start, the second-year signal-caller will now go toe-to-toe with arguably the game's best quarterback ever and the NFL's top defense.
Despite the odds stacked against the Green & White, Gase has full confidence in the Washington State product, who completed 20 of his 25 passes for 198 yards last week.
"If you're around him, it's not hard because he's confident in himself," Gase said. "He knows the offense, he trusts the guys around him. He just works to do his job, he tries to do a good job of communicating everything. He's very quick on his feet, very smart. He got us into some checks last game where I don't know if any of us expected that to happen and him to be that aggressive when he got in the game."
Jets DL vs. Pats OL
The key to dismantling New England's offense is to make QB Tom Brady uncomfortable in the pocket. Through two games, the Patriots have yielded three sacks, but lost starting LT Isaiah Wynn to injured reserve with a foot injury earlier this week while the Jets have four sacks and 16 QB pressures in the season's first two weeks.
"They run a pretty good amount of blitz-man and they add in quickly," Patriots HC Bill Bellichick said of the Jets. "Four or five can become six and six can become seven in a hurry. They also have an overload blitz package, which complements their single blitzers, but the single blitzers often are more than one blitzer."