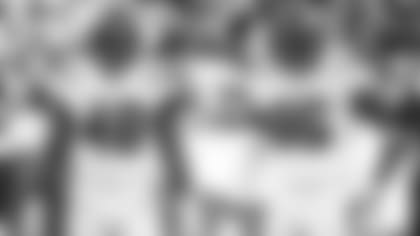 Leonard Fournette vs. Jets Rush D
After a subpar sophomore season for reasons both on the field and off, RB Leonard Fournette's future in Jacksonville was uncertain entering the offseason. Through seven games in 2019, he's leading the AFC in rushing with 715 yards, which ranks No. 2 in the NFL.
"He's come back with a completely different attitude," Jaguars.com's John Oehser said. "He might be the most obvious team leader on the offense and he's had a remarkable turnaround in terms of approach. … While everyone was watching Gardner Minshew and Jalen Ramsey, Leonard Fournette suddenly became the back they drafted."
The Jets have experience playing the 2017 No. 4 overall pick, but perhaps not this version of the third-year pro as Fournette lost weight in the offseason. The Jets have done a good job this season against the run, holding opponents to 3.3 yards per carry, which ranks No. 2 in the NFL.
"He's a strong, downhill runner and he's also quick," OLB Jordan Jenkins said. "He can run you over and if you take a bad angle, he'll spin out of it in a heartbeat. He's a guy you can't take a bad angle because he's going to cut and run you over or cut and spin out. I know I'm going to have to be focused on good angles and in the backside, you can't get over aggressive in your pursuit because he will flip the field and gain some yards."
Sacksonville vs. Le'Veon Bell and Jets OL
The Jaguars defense starts up front with the likes of Calais Campbell, Yannick Ngakoue and 2019 No. 7 overall pick Josh Allen, who the leads the team with five sacks. While they've totaled 20 sacks through seven games, it hasn't translated to wins.
"The problem with the pass rush so far has been they haven't had a lead," Oehser said. "They had a lead the entire game against Tennessee and they had nine sacks. Other than that, they've only led for like 40 minutes, so as a result, they had no chance to rush the passer. In the one game they've been up, it was just like 2017. I think they can rush the passer, they're not the dominant team they were in 2017, but they're good."
In order to neutralize the pass rush, perhaps the Jets will turn to the ground on Sunday. Running back Le'Veon Bell is coming off his best performance in 2019 with 70 rushing yards on 15 carries and in Week 5, the Panthers ran for 285 yards on the ground against Jacksonville. Even though the Jets are banged up on the offensive line, Jaguars head coach Doug Marrone has been impressed with the group.
"I think the [offensive lineman] that have come in and played have done a nice job," Marrone said. "They're big guys, they're physical. I think playing together again, if they keep them all together, they'll be much improved, so we're expecting the best out of them. Le'Veon Bell has been one of the best running backs in the league the last couple years and we know how great he is and we have a ton of respect for him."
D.J. Chark vs. Jets Secondary
Second-year WR D.J. Chark is the staple of the Jags' No. 14 passing attack, leading the team with 33 receptions, 581 receiving yards, which ranks No. 4 in the NFL, and five touchdowns while averaging 17.6 yards per catch. But after a hot start in the first five games this season, the 2018 second-round pick has slowed down a little bit and totaled six catches for 96 yards and no touchdowns in Weeks 6-7.
"In the last two games, teams have doubled him with a safety single-high," Oehser said of the LSU product. "Minshew hasn't been able to rely on him as much. He's come back to earth a little bit. Chark's challenge now is to figure out a way to go to other guys and get defenders off Chark and open him up deep."