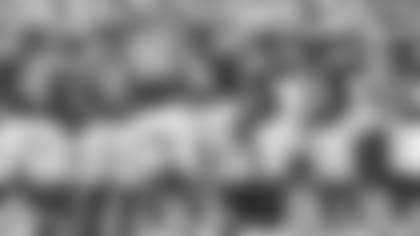 Saquon Barkley vs. Jets Run D
After a sensational rookie season, Giants RB Saquon Barkley has been slowed down this season and missed three games with an ankle injury. Barkley only rushed for 28 yards Monday night against the Cowboys, but can take one to the house on any given play either on the ground or through the air. The 6'0", 233-pounder took a short pass 65 yards against Dallas and ranks third on the team with 28 receptions for 228 yards and one score.
"His vision and awareness is second to none right now," LB Brandon Copeland said. "Watching the film on him, there's sometimes where it looks like he's in a box and there's somebody coming from an angle, who he probably shouldn't see, but he spins or jump-cuts. That was one of the things that stood out to me. He's very aware of his surroundings even when it looks like he's not paying attention."
The Jets rush defense is the strength of their defensive unit as they allow an average of 89.2 yards per game, which ranks sixth in the NFL. They also lead the league with 3.1 yards allowed per carry.
"Just play physical, fast, attack the line of scrimmage and get off blocks," Steve McLendon said of Sunday's gameplan. "Once we make a running back like him stop his feet, and hit him early and often, then you'll be able to continue to do the things we've been doing."
Giants WRs/TEs vs. Jets Secondary
The Giants are banged up at wide receiver and tight end just as the Jets are banged up in the secondary. It seems like Giants TE Evan Engram (foot) won't play along with WR Sterling Shepard (concussion) and the Jets lost CB Trumaine Johnson (ankle) and S Rontez Miles (hip/neck) to injured reserve. Darryl Roberts, who's started all eight games for the Green & White, hurt his calf in Wednesday's practice.
"They're going to try to attack us with quick throws. We have a gameplan for them, so we'll be good," cornerback Arthur Maulet said. "[Golden Tate] is a great slot guy, one of the best yards-after-the-catch guys in the league and we have to bottle him up, so that's going to be a big test for us."
Jets Run Game vs. Giants Run D
The Jets hope to get their running game on track against the Giants' No. 25 rush defense that's allowing 127.9 yards per game. But even though the matchup comes off as favorable for the Green & White, at least statistically, Big Blue has some young, big bodies up front in 6'3", 342-pound rookie Dexter Lawrence and 6'3", 318-pound Dalvin Tomlinson. 
"Those two big guys in the middle, they're trying to build it from the inside out," NFL Network analyst Bian Baldinger said. "They're strong up the middle as Ezekiel Elliott found out. Off the edge, they're trying to get some young pass rushers like Oshane Ximines, a good pass rusher out of Old Dominion. He showed some signs [against the Cowboys]. On the other side is Lorenzo Carter, No. 59. He's got speed, some range, he has a little bit of ability to get to the quarterback.
"Those young guys are the foundation right now of a young Giants defense that's struggling, but to me, they play hard and they're trying to get better."
Sunday, the Jets will also line up against former teammate Leonard Williams, who was traded to the crosstown team last week. As a result, Jets offensive coordinator Dowell Loggains said the offense will have to change up some of their calls at the line of scrimmage.
"He's a really smart player," Loggains said. "Not only is he a really good player, but he's really intelligent and knows some of the things we did cadence-wise or code-word-wise and we're going to have to look into that."
See Top Photos from the Practice Field Leading Up to the Matchup Against the Giants