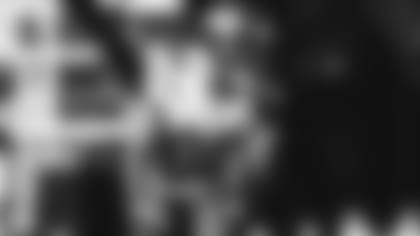 Jets WRs vs. Eagles CBs
With or without QB Sam Darnold, the Jets will probably look to attack the Eagles' banged-up secondary as three of their six active cornerbacks are battling injury. Ronald Darby (hamstring) and Avonte Maddox (concussion/neck) did not practice Wednesday or Thursday and Sidney Jones (hamstring) was limited both days.
"To throw the ball, you have to be able to protect and if you really want to take advantage of something that you feel you have an advantage of, sometimes it's down-the-field throws and it takes longer to develop sometimes. With this D-line, they're coming and they're coming quick," Adam Gase said. "It's got to be a group effort, all 11 guys, to understand this D-line is real and it's deep. They have elite players and to throw the ball, you have to be able to protect."
Wide receiver Jamison Crowder, whose 20 catches are tied for the team lead with Le'Veon Bell, is very familiar with the Eagles, having played in the NFC East with the Redskins for the first four years of his career. In eight games against Philly, Crowder has totaled 252 yards and one touchdown on 24 receptions.
"Just playing against those guys, they're very aggressive," he said. "They have one of the best fronts in the league, but the DBs, they're really aggressive and that's just kind of their mentality. They're going to blitz you, take their chances and stuff like that. We have to just go out there like any other week and make sure that we clean up all the mental errors and some of the things that we need to clean up."
Eagles Pass Catchers vs. Jets Secondary
Philadelphia's air attack currently ranks No. 20 in the NFL, but don't judge a book by its cover. The Eagles have a talented receiving corps with Alshon Jeffery and DeSean Jackson, who has missed the last two games with an abdomen injury and did not practice Wednesday or Thursday, on the outside. Jeffery (6'3", 218) provides height and the speedy Jackson can still burn rubber — he scored two 53-yard touchdowns in Week 1.
But the Jets will need to key in on tight end Zach Ertz, arguably the best tight end in the league. The seventh-year pro set an NFL record last season with 116 catches by a tight end and he leads the team with 24 catches and 255 yards through four games but has yet to find the end zone. The Jets, on the other hand, have done a good job keeping opposing tight ends in check, allowing a total of 80 yards in three games.
"I'm a competitor, I'm looking forward to go against anybody I go against. This is definitely a great tight end, he's really a receiver," safety Jamal Adams said. "My hat goes off to him, I have a lot of respect for what he does and I'm looking forward to the challenge."
Jets DL vs. Eagles OL
The Eagles have arguably the NFL's top offensive line as the starters have combined for 15 Pro Bowl appearances and 44 years of experience, but they have allowed three sacks in each of their last two games. The Jets pass rush will seemingly be without Jordan Jenkins, who is week-to-week with a calf injury, but rookie Quinnen Williams will play in his first game since Week 1. The Green & White has been stout against the run, allowing 88.7 yards per game, which ranks eighth in the NFL, but hasn't found similar success in the pass rush. Through three games, they've totaled five sacks.
"They got a good offensive line, man, there's no doubt about it. But it's not about them, it's about us," Steve McLendon said. "Going into the game, man, we're focused on our game plan to get everything done and we're going to go out there, fly around and play our style of football. They're just the next people on the schedule."