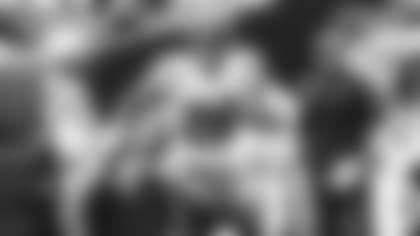 Jaylon Smith and Leighton Vander Esch vs. Le'Veon Bell
The Dallas front seven is highlighted by a pair of linebackers under 25 years old. Jaylon Smith, 24, and Leighton Vander Esch, 23, rank first and second on the Cowboys in tackles and have combined for 86 stops. Last year as a rookie, Vander Esch finished third in the NFL with 140 tackles and Smith finished 13th with 121. This season, Dallas has the sixth-ranked defense, allowing an average of 321.3 yards per game, and the No. 2 third-down defense, holding opponents to converting on 26%.
"That linebacking corps is legit, man," Adam Gase said. "They can run sideline to sideline, they're physical downhill. When you run the ball downhill, those guys come up and you see linemen, they pop them. Those guys thud it up."
Despite elite personnel, the 'Boys have allowed a combined 237 rushing yards in their last two games. Even though Le'Veon Bell hasn't eclipsed more than 68 rushing yards in 2019, he's still an elite playmaker in the NFL and will be more effective with Sam Darnold's return.
"He's a guy that's special," Smith said. "This is going to be my first time playing against him, so I'm extremely excited. My rookie year, I was recovering from my injury, so I was only able to see it on the sideline, but he's just a guy that can do it all. He prides himself on his patience, so we're looking forward to the challenge.
"It's the ultimate test this week because he's a guy that can be anywhere anytime. You have to do your job."
Amari Cooper/Dak Prescott vs. Jets Secondary
Even though Ezekiel Elliott headlines the Cowboys offense as he led the NFL with 1,434 rushing yards last season, their No. 4 passing offense has been more effective this season. Led by WR Amari Cooper, who's coming off an 11-catch, 226-yard performance, the Cowboys are averaging 312 passing yards per game and Cooper ranks second in the NFL with 512 receiving yards.
"I think he's talented, he's a good route runner," CB Nate Hairston said. "He can run all of the routes, he has good speed, he's a top receiver in my eyes. I think you have to be locked in on everything, knowing the splits, the formation, so you can get a tip before the play even starts."
Quarterback Dak Prescott is off to his best career start in his fourth season, completing 69.6% of his passes for 1,606 yards (fourth in the NFL) and 11 touchdowns. The Jets have allowed two 100-yard receivers in four games, but the 6'2", 235-pound Prescott has proven to be turnover-prone, tossing six interceptions in five games.
"I think Dak's done a really good job of developing since he's gotten in the league," Gase said. "He's become a very good pocket passer with the ability to move and create outside the pocket. He does a good job stepping up and kind of finding the seams and being able to remain a passer throwing the ball down the field."
Cowboys OL vs. Jets DL
For the second straight week, the Green & White will work against one of the NFL's best offensive lines. However, six-time All-Pro LT Tyron Smith (ankle) and starting RT La'el Collins (knee) did not practice Wednesday. Prescott has been sacked just six times this season and the Jets could get back Jordan Jenkins (calf), who tied for the team lead in 2018 with seven sacks, and Brandon Copeland (suspension), who tallied a career-high five sacks last season, this Sunday.
"I think you have to have a good understanding of all your matchups," Cowboys head coach Jason Garrett said. "We feel good about our tackles. They went in there and played well in the game, but you always have to be on the lookout for an issue that you might have at that position or any position and address it by game plan and then during the game and adjust as you go."