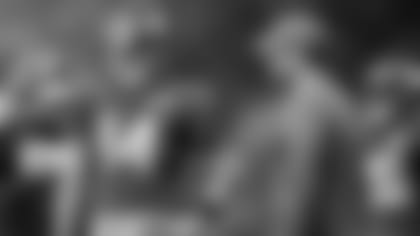 Sam Darnold vs. Bills Secondary
Even though Week 1 is a clean slate for all 32 NFL teams, it's hard to ignore the success of the Bills passing defense in 2018 as they ranked atop the NFL, allowing an average of 179.2 yards per game. Buffalo returns their key cogs in the secondary, namely CB Tre'Davious White and safeties Jordan Poyer and Micah Hyde.
"In the passing game, they're primarily a zone defense," NFL Network's Brian Baldinger said. "They don't want anything to go over their head. They want to keep everything in front of them. The Bills are excellent at rallying to the football and they're a very good tackling team. The closer you get to the goal line, they still like to play zone, they want to keep everything in front of them. But there are times when Buffalo will go man. There are opportunities to beat man coverage, they just have to recognize when the Bills are in it."
Darnold only faced them once last season in Week 14 as he completed 16 of his 24 passes for 170 yards, one touchdown and one interception in a come-from-behind Jets win.
"Going up against the same Buffalo defense that I went up against last year, it's going to be fun to see the different looks that they bring me, different kind of pressures," the second-year signal-caller said. "It'll be fun to see what Coach (Sean) McDermott has up his sleeve this game."
Tremaine Edmunds vs. Le'Veon Bell
Le'Veon is itching to finally return to the gridiron Sunday as he makes his Jets debut, but the Bills have a talented 21-year-old linebacker ready to ruin Bell's welcome-back party. Last season, first-round pick Tremaine Edmunds led the Bills with 121 tackles and 12 pass defenses in addition to recording a pair of sacks plus two interceptions, one which came against the Jets in Week 14, and two forced fumbles.
"If Le'Veon Bell and the Jets want to run the ball Sunday against the Bills, they better figure out a way to get No. 49, Tremaine Edmunds, blocked," Baldinger said. "He was their leading tackler a year ago at 20 years old. He's a difficult guy to get to, he's a difficult guy to block and you have to account for him every play."
Jets Defense vs. Bills QB Josh Allen
Last time these two teams met, Bills QB Josh Allen found success on the ground as he rushed for 101 yards and one touchdown on nine attempts, but struggled through the air, throwing two picks while completing 18 of his 36 passes for 206 yards and no touchdowns.
"You just have to know that if you have any holes in the defense, in the past, whether it's DBs playing well and have everybody locked up, it's our job in the front to contain the guy," OLB Jordan Jenkins said. "You have to go into this game with the mentality that if you leave an opening in the middle, on the edge, he's going to take off. So you just have to keep that in mind when you rush him."
But the Jets enter Sunday's contest with a new scheme, one that is predicated on forcing turnovers. Last season, the Browns-led Gregg Williams defense ranked second in the NFL with 31 takeaways (17 INTs, 14 fumbles).
"Odds are that they're going to come out and show something we haven't seen from them and we're going to have to make adjustments in the game," Allen said. "As long as we're sticking to our base rules, I know where the answers are, we'll be okay in that aspect, but we have to be consistent with that and take care of the football."