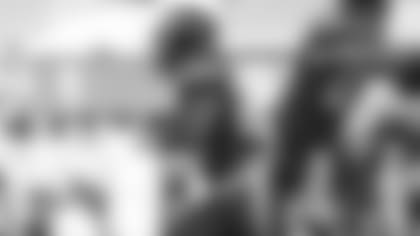 Jets Defense vs. Russell Wilson and DK Metcalf
The Jets defense will have its hands full with MVP candidate Russell Wilson, who ranks top-5 in the NFL in most QB categories. He's No. 3 in the NFL with 3,479 passing yards and No. 2 with 32 TDs. Perhaps Wilson's greatest strength is his accuracy -- he's completing 70% of his passes, which is No. 3 in the NFL.
"It's been insane since he's got in the league," Head Coach Adam Gase said. "His deep balls especially, he puts the ball where he wants to put it. He's a hard guy to disrupt, he's a hard guy to rattle. You have to try and keep him in the pocket as much as possible if you can. Even then it sometimes doesn't matter because he'll push the ball down the field."
One of Wilson's favorite targets is second-year wideout DK Metcalf, who leads the NFL with 1,119 yards to go along with his 9 TDs. Metcalf (6-4, 235) has a rare blend of size and speed -- he ran 4.33 in the 40-yard dash at the 2019 NFL Combine.
"When the Jets get ready to play Seattle this week, just know that DK Metcalf can run by any corner in the league," NFL Network analyst Brian Baldinger said. "He can hit a home run from anywhere on the field. He can dominate a game from any time during any time of any game. He has that type of ability."
Speaking about Tyler Lockett, who leads the Seahawks with 78 catches to go along with 834 yards and 8 TDs, Baldinger said: "He's small, but he can beat man coverage and Russell Wilson, sometimes, if he gets in a groove with him, he'll go to Lockett every single throw. … Usually the guy that gets open is Tyler Lockett the longer [Wilson] holds it. That's who he's looking for."
Jets Run Game vs. Seahawks Run D
Perhaps the Green & White will look to establish a rushing attack, like last week against the Raiders when the team ran for 206 yards, the most in a game since 2018. In Seattle's loss in Week 13 to the Giants, RB Wayne Gallman had 135 yards on 16 carries against the league's No. 5 rush defense (97.7 yds/g).
"You talk about going behind Route 77 [LT Mekhi Becton] and that being a path to success, imagine being able to do that against the Seattle Seahawks," Jets' former LB Bart Scott said on The Official Jets Podcast. "If you're going to have success, it's about keeping Russell Wilson on the bench. We saw the Giants prove that. Keep him on the bench and force him to have to be great the few possessions you get. Take the air out of the ball and hope you capitalize to get 7 instead of 3."
Sam Darnold vs. Seahawks Defense
The Jets turned to their run game against the Raiders in Week 13, but their passing attack should have an opportunity to be effective against a Seahawks defense that gives up 309.8 yards per game, the most in the NFL (309.8 yds/g).
"It'll be like a three-deep-type concept," Gase said. "They pressure quite a bit with the safeties and linebackers. Their scheme is a little bit different than what it's been in the past with Coach [Pete] Carroll, but there's enough similarity there. ... Their personnel has changed, so they're using guys a little differently than what they used to."
Last week against Las Vegas, QB Sam Darnold threw for 186 yards and 2 TDs, both to Jamison Crowder. Crowder led the team with 5 catches and 47 yards while Breshad Perriman and Denzel Mims combined for 62 yards on 3 catches. That's the lowest output since the threesome has been in the lineup together.
"We just have to be consistent in the passing game," Gase said. "We dropped some balls this past game. We weren't always in the right spots. We have to be able to help Sam out in the aspect of being consistent. Then we have to make the right decisions at quarterback. We had a couple errors there. Sam played pretty solid and I still think there are some things that if we get cleaned up, his numbers will get bigger and put us in a really good position."