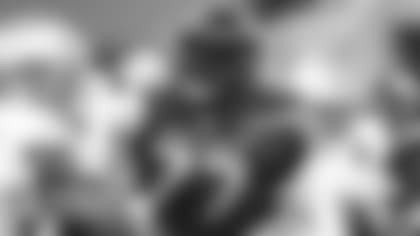 Jets OL vs. Aaron Donald, Rams Defense
Jets Head Coach Adam Gase said that the Rams defense, which ranks No. 1 in the NFL, will probably be the toughest defense they'll face this season. That group is led by two-time Defensive Player of the Year and five-time first-team All-Pro DL Aaron Donald, and perhaps the best cornerback in the NFL in Jalen Ramsey.
"Tough team to run the ball against, tougher team to throw it against," Gase said. "You have to do a great job, especially with ball security. These guys see fewer plays than anybody in the NFL, so you have to find ways to get first downs. You want to stay out of third-and-long because these guys teeing off and rushing the passer is not a good formula to try and beat them."
On Donald, who leads the NFL with 12.5 sacks, Gase said: "It doesn't matter if it's a guard, a tackle, center, this guy has dominated mostly everybody he's ever gone up against. He plays with an outstanding energy level. He's unconventional in the sense of you won't see perfect technique all the time, but he finds a way to win. He's quick, he's powerful."
The Rams rank No. 3 in the NFL with 42 sacks. Other than Donald, Leonard Floyd, who signed with the Rams in the offseason, has 7.5 sacks and Michael Brockers has 5.
"I talked to Mekhi [Becton] a couple weeks ago and he said he was going to be excited to see what Aaron Donald brought to the table as they continue to put Aaron Donald outside," Jets' former LB Bart Scott said on The Official Jets Podcast. "Secretly, Leonard Floyd is having one of those seasons exactly that the Chicago Bears thought they were getting when they drafted him in the first round. He's playing at a high level, too, so I don't know if Mekhi is going to get much time off because he's going to be challenged early and often from that defensive line."
Jets Rush D vs. Rams Rush Offense
The Jets' defense takes pride in stopping the run, and last week the Seahawks ran for 174 yards on 36 carries (4.8 avg). The Rams have the NFL's No. 8 rushing attack (128.9 yds/g) and ran for 186 yards against the Patriots in Week 14 behind Cam Akers' 171 yards on 29 carries (5.9 avg).
"It's taken three quarters of the season, but the Rams have found their starting running back and his name is Cam Akers, their second-round pick out of Florida State," NFL Network Analyst Brian Baldinger said. "We saw all kinds of runs behind Gerald Everett. Gerald Everett wears No. 81, he's a fullback/H-back tight end and when [Akers] finds the hole, he can drop that shoulder and finish his runs. He runs behind his pads. … They're feeding him right now. The Jets have got to try and contain Cam Akers."
On the Jets' run defense, Gase said: "Our rush defense definitely will be better moving forward. There were some really poor mistakes made. Playing the guys that we were playing and some of the younger guys, they kind of went off the reservation for us a little bit. Sometimes it takes one guy to break down and all of sudden you have a huge hole and it's hard to recover from. We definitely will get that cleaned up."
Jets Secondary vs. Robert Woods/Cooper Kupp
The Jets gave up four touchdown passes against the Seahawks last week and will face one of the best wide receiver duos in the NFL in Cooper Kupp and Robert Woods. Kupp leads the Rams with 79 receptions and 869 yards to go with his 3 TDs. Woods is close behind with 76 catches, 796 yards and 5 scores.
"That combination of those two guys out there between Robert Woods and Cooper Kupp, those guys are doing as well as you want them to do," Gase said. "They're smart, they're obviously athletic. They have great hands, they're great route runners. They're always where they're supposed to be, they're competitive. There's a reason why all of a sudden when those two guys were added to the roster that this team became a top-5 offense."