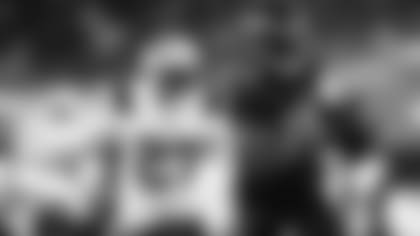 Sam Darnold vs. Patriots Defense
Jets QB Sam Darnold has played his best football this season in the last two weeks. He has a 93.5 QB rating in the team's back-to-back wins and has thrown for 382 yards and 3 TDs while completing 60.3% of his passes (38 of 63). Most importantly, he hasn't committed a turnover.
"He's played good football," Head Coach Adam Gase said. "He had that one mistake against Seattle when he hit Jamal [Adams] right in the chest and he ended up dropping it, but for the most part, his decision-making his been really good. He's done a good job of making sure we possess the ball at the end of the drive and we're either ending with an extra point, field goal or a punt."
Gase said of Darnold's improved play: "I think it's just being able to play with the receivers more consistently. We've had this line kind of rolling together the last few games. … I feel like he's playing loose and he has a good plan going into the game and he's executing it well."
Darnold, however, does not have a good track record against the Patriots -- he's thrown for 253 yards, 0 TDs and 4 interceptions in two games (both losses). He missed the first meeting between these teams in Week 9 because of a shoulder injury.
"I'm excited to see how he's going to perform and try to build off his performance from last week, continue to see if he's going to be clean," Jets' former LB Bart Scott said on The Official Jets Podcast. "Bill [Belichick] is going to try and take away Plan A for him and make him win left-handed. I don't know if Plan A is [Jamison] Crowder, his security blanket, or if it's the running game. It's going to be about Sam and if he can lead this team to victory and if he can find something to really grow on and be able to take the next step into the offseason to get better."
Jets Run Defense vs. Patriots Rushing Offense
The Jets defense put together it's most impressive performance of the season last game, totaling 4 sacks, 7 QB hits, 4 TFLs, 3 forced fumbles (2 recovered) and 11 PDs. Most impressively, the group held the NFL's No. 3 rushing offense to 4 yards in the first half and 45 total.
"That's always been our goal to stop the run on first and second down, force them to third-and-long and force their quarterbacks and receivers to beat you that way," LB Neville Hewitt said. "I believe that's what we'll try to do this week. I think [the Patriots] are going to come out and try to hand the ball off and see what the quarterback can do from there."
Hewitt said fellow LB Bryce Hager, who started his first game of the season and led the Green & White with 10 tackles, had a "heck of a game." New England has the No. 5 rushing offense (145.3 yds/g) and a rotation of RBs that includes Damien Harris, James White and Sony Michel.
"They're going to have downhill runs," Gase said. "They're going to be outside, they'll have some gimmick-type runs where they'll have trap schemes and stuff like that. We have to be disciplined and can't be lulled to sleep with their stuff because they'll have plays off plays. We have to do a good job against play action."
Jets WRs vs. Patriots Secondary
Breshad Perriman, Denzel Mims and Jamison Crowder combined for 11 catches, 189 yards and 3 TDs in Week 9 against the Patriots. New England ranks No. 7 against the pass (221.2 yds/g) and has remained a man-to-man-based defense even without All-Pro CB Stephon Gilmore, according to NFL Network analyst Brian Baldinger.
"But now, even the Patriots are breaking down in man coverage," Baldinger said. "When you get closer to the red zone, they're willing to drop eight and rush three guys and make the quarterback hold the ball. … Their biggest problem is that they just don't have any skilled pass rushers. They don't have guys who can win one-on-ones. They rely on a lot of twist stunts to try and get to the quarterback and if they don't get there, nobody gets there. A lot of opportunities for the Jets to move the ball this weekend."