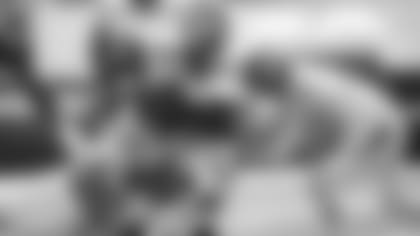 Jets Secondary vs. Philip Rivers
Philip Rivers is the Colts new quarterback after spending the first 16 years of his NFL career with the Chargers. Rivers signed with Indianapolis in March, and has completed 77.5% of his passes and thrown for 577 yards, 2 TD and 3 INT.
"I've had my fair share of watching Philip Rivers in his prime," Head Coach Adam Gase said. "Now seeing him in his older years play, his mind is still as good as it's ever been. He still can make all the throws necessary to create explosive plays and he's not afraid to jam it in there when he feels like he can in some of those tight windows."
Rivers' confidence in his arm is a double-edged sword and his 20 interceptions last season was third most in the NFL behind Baker Mayfield (21) and Jameis Winston (30). Rivers might be turnover prone, but if he'll carve up a defense if given proper protection.
"If there's an open guy, he's not going to miss him," Gase said. "When these guys get later in their careers, they have a really good sense of arc and pace, timing, anticipation. That's what they used to make up for any lack of arm strength. Father time catches up to you and the arm strength isn't the same as when you were 23, but the anticipation, the knowledge of the game is light years above when they were younger when they were physically stronger."
Jets Offense vs. Colts Defense
The Colts have the NFL's No. 1 defense, allowing an average of 208 yards per game. Their group is led by LB Darius Leonard, "The Maniac," whose 300 tackles in his first 30 NFL games is the most by any player since at least 1987. Leonard, who was a first-team All-Pro as a rookie in 2018, leads all NFL LBs with 7 INT since entering the league and all inside linebackers with 12 sacks.
"Ever since he's come in the league, he's been an impactful player for them," Gase said. "It starts with the way he runs as far as anticipating what's coming, taking the proper angle, his speed for a linebacker, especially game speed, is outstanding. He anticipates as well as any linebacker that's playing right now."
Indianapolis beefed up the interior of its defensive line and traded for 49ers DT DeForest Buckner, who had 1.5 sacks in Week 2 and 28.5 in four years with San Francisco.
"He can do it all," Colts Head Coach Frank Reich said. "He can rush the passer 1-on-1. He's elusive, he's explosive, he's so long and plays the run and the pass. He's incredibly smart, he has all the right intangibles. He's a strong leader and a cornerstone to our defense. In our defensive scheme, 3-technique is a pivotal position and that was the right move for us."
Quinnen Williams and Jets DL vs. Quenton Nelson and Colts OL
The Jets run defense, which finished No. 2 in the NFL last season, was boom or bust in Week 2 against the 49ers. The group allowed 182 rushing yards an including 80- and 55-yard runs. Other than those two explosive plays, San Francisco was held to 47 yards on 27 carries (1.7 avg). The Jets now face a Colts offensive line that's in the upper echelon of the NFL. It is led by LG Quenton Nelson, who's earned Pro Bowl and first-team All-Pro honors in each of his first two seasons. Nelson, the No. 6 pick in the 2018 draft, helped pave the way for rookie RB Jonathan Taylor's 101 rushing yards last Sunday against the Vikings.
"You don't really hear a ton of things about offensive linemen especially interior guys when you're coming out of college," Gase said of Nelson. "This guy was the talk of the combine. Everyone was talking about him leading up to the draft. Not only is he extremely smart, but he plays really physical. He's mean. He sets the attitude of the entire room, but his technique and fundamentals are phenomenal. You can tell this guy takes a lot of pride in what he does."
Nelson will line up against a number of Jets defensive lineman including second-year player Quinnen Willams, who's coming off his best professional game with 2 sacks, 2 tackles for loss and 1 FF