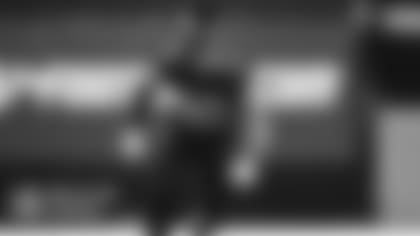 Jets Defense vs. Justin Herbert and Chargers WRs
Chargers rookie QB Justin Herbert hasn't looked back since starting for Tyrod Taylor in Week 2, even though he's gone 1-7. He's thrown for 2,333 yards, his 19 TD passes are eighth in the NFL and his 102.8 rating is 10th. He has 9 TD passes of 20-plus yards, which is the most by a rookie in NFL history through 10 games.
"Really good movement skills," Jets Head Coach Adam Gase said. "Very good ability to process, understand the game. He's obviously having a ton of production. ... He's seeing the field well, he's making the right decisions for the most part, he's not turning the ball over a ton, which is where rookies run into problems."
Herbert's go-to target is Keenan Allen, whose 65 receptions ranks No. 4 in the NFL and his 257 yards on third down is third in the league. Allen is flanked by Mike Williams, who led the NFL last season averaging 20.4 yards per catch. They will face a Jets pass defense that ranks No. 28 in the league (281.8 yds/g) and is no longer with Pierre Desir, who started eight games and was released on Tuesday.
"[Herbert] has got some legitimate, big-time weapons," NFL Network analyst Brian Baldinger said. "Keenan Allen is his No. 1 target and if you try to blitz [Herbert], he's going to go find Keenan Allen because Keenan Allen is going to find the open spot."
He added: "[Herbert] is not afraid to throw jump balls. Mike Williams is excellent at being able to time the jump. Just put it up there and just let Mike Williams go get it. He's excellent at doing that."
The Three Dudes vs. Chargers Secondary
Breshad Perriman, Denzel Mims and Jamison Crowder did not disappoint in their first game together, combining for 11 catches, 189 yards and 3 TDs against New England. Perriman, who averaged 20.2 yards per catch against the Patriots, was limited in Wednesday's practice because of a shoulder injury. QB Joe Flacco, who will make his fourth start for the injured Sam Darnold (shoulder), thinks defenses will change their approach after the offense stretched the field in its last game.
"Teams have been able to kind of come up and press us," he said on The Official Jets Podcast. "I think the more that we can get that going, the more it's going to put fear into people and maybe we'll start seeing a little more zone and maybe get some easier completions and being able to move the ball with a little bit less resistance. It's always good to see guys win vertically when they do want to come up and challenge you because it allows the possibility of big plays and all of those things. It makes protection better. Hopefully we can keep everybody healthy and keep everybody doing those same kind of things."
Jets Offensive Line vs. Joey Bosa and Chargers D-Line
The Chargers defensive line is highlighted by Joey Bosa, the No. 3 overall pick in 2016. He's missed the last two games because of a concussion and is one of the NFL's best pass rushers. He has 44.5 sacks in 58 career games and has 4.5 this season to go along with his 13 QB hits. LA's other pass rusher – Melvin Ingram – has 49 career sacks and is looking for his first of 2020.
"We have to control their front," Gase said. "Their front is scary with those four guys. There's a good chance Bosa is back, so now you have one of the elite pass rushers you're dealing with, Melvin Ingram and their interior guys are good. Their linebackers run, their secondary probably isn't where their front is, but these guys are dangerous. They don't do a ton of stuff schematically, but they do things really well and fast."