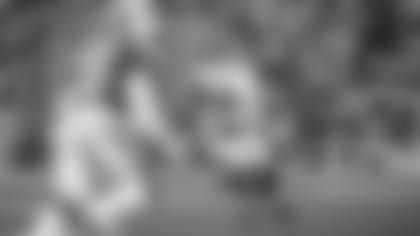 Sam Darnold vs. Bills Secondary
The Bills defense finished No. 3 in the NFL in 2019 -- No. 4 against the pass -- allowing 195.2 yards per game. Their secondary is led by Pro Bowl CB Tre'Davious White, who tied for the NFL lead with 6 interceptions, in addition to 17 pass defenses and 58 tackles. White signed a multi-year extension earlier this week. In a year without any OTAs or preseason games, Buffalo has continuity on both sides of the ball.
"We know we're playing a really good defense," Jets Head Coach Adam Gase said. "Sean [McDermott] has basically been building this the way that he's needed it built since he's gotten there. Now these guys have multiple years of experience together. … When you develop that kind of chemistry, that's what makes you good. When you keep playing the same defenses, it's no different than playing in the same offense. This is definitely a tough challenge. The secondary is outstanding, they've been one of the best pass defenses in the NFL the last couple of years. Their front is tough. You're looking at three levels that are very difficult to go against."
Quarterback Sam Darnold has an 81.5 quarterback rating in three career games against the Bills, two of them in Orchard Park, NY. He's thrown for 544 yards, 3 touchdowns and 2 interceptions while completing 66.3% of his passes and is familiar with defensive coordinator Leslie Frazier's scheme that features a lot of Cover 4.
"First and foremost, there are so many things you can do off of it," Darnold said of Cover 4. "It's the best coverage to start out in if you want to disguise or bring some pressure. From that aspect, it can be tough and challenging to go against. Another aspect is they have a bunch of zones of the field covered. Being able to disguise and bring different pressures and coverages off of that base Cover-4 look. That can be the hardest part for an offense."
Jets Defense vs. Josh Allen
The Jets' defense needs to account for Bills QB Josh Allen both in the pass and run game because he finished third among quarterbacks last season with 510 rushing yards -- behind Lamar Jackson, the NFL's MVP, and Kyler Murray. In the 2019 season opener at MetLife, Allen threw for 254 yards, 1 touchdown and 2 interceptions and ran for a score. He has 139 total rushing yards and 2 TDs on 19 attempts in three games against the Green & White.
"He's extremely fast for a guy his size and plays with great physicality," Gase said. "This guy really causes a lot of problems because when he does stuff like this, it's not something defenses in the NFL really want to account for because you don't think the quarterback is going to run the ball. That's what catches D-linemen off guard, linebackers drop thinking he's going to throw."
New Jets OL vs. Bills DL
The Jets' starting offensive line on Sunday will consist of five new players compared to Week 1 last year. The unofficial depth chart that was published Monday had, from left to right, Mekhi Becton, Alex Lewis, Connor McGovern, Greg Van Roten and George Fant, who was named one of five team captains. Lewis is the only returning player from last season on the projected starting line, but Fant believes they're ready for their first live action as a unit against a tough Bills defensive line.
"Obviously we're new together, but pretty much everybody has played a lot of NFL football besides Mekhi," he said. "We have a good jell going right now and we're excited to play somebody else. … They're a good defensive front. They've been together for a little bit and have some new guys in there with some of the old. They're definitely going to be a test, they're disruptive."