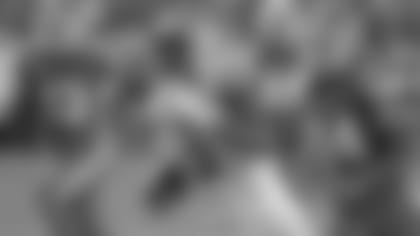 Le'Veon Bell leads the Jets' stable in the backfield, but both Ty Montgomery and Bilal Powell, who backed up Bell, remain unrestricted free agents. The RBs currently under contract, excluding the two-time first-team All-Pro, are Trenton Cannon, Josh Adams, Jalin Moore and Kenneth Dixon.
General manager Joe Douglas and the Jets, with needs on the offensive line, and at wide receiver, cornerback and edge, may or not address this position high in this year's draft. It's likely no backs will be selected before the Green & White go on the clock and it would seem extremely unlikely for the club to go in that direction with the No. 11 overall pick.
When the Jets are on the clock for their second-round pick at No. 48, it's possible a trio of running backs could be already selected — Georgia's D'Andre Swift, Wisconsin's Jonathan Taylor and Ohio State's J.K. Dobbins.
D'Andre Swift, Georgia (5'8", 212) — Swift was the next man up after Browns RB Nick Chubb in Athens and eclipsed 1,000 yards in back-to-back seasons in 2018 and '19. He totaled 2,885 rushing yards and 20 TDs on 440 carries in 43 games.
Jonathan Taylor, Wisconsin (5'10", 226) — Despite being a larger back, Taylor blazed the NFL Scouting Combine with a 4.39 40-yard dash. The NJ native had an extremely productive career for the Badgers, eclipsing the 2,000-yard mark in 2018 and '19 and coming up a mere 23 yards shy his freshman season with 1,977 yards. He also totaled 50 rushing scores and averaged 6.7 yards per carry.
J.K. Dobbins, Ohio State (5'9", 209) — Dobbins finished third in the NCAA this past season with 2,003 rushing yards in addition to 21 TDs, and he was named Big Ten Running Back of the Year. He rushed for at least 120 yards in 10 of his 14 games in 2019, with eight games over 150 and six over 170. 
The Jets will look to find value in the later rounds of the draft on Days 2 and 3. Here are a half-dozen more running backs that could be available at No. 48 and beyond:
Clyde Edwards-Helaire, LSU (5'7", 209) — Doesn't receive the same national recognition as QB Joe Burrow and WRs Justin Jefferson and J'Marr Chase, but Edwards-Helaire is a dual-threat out of the backfield. He garnered first-team All-SEC honors in 2019, rushing for 1,415 yards and 16 touchdowns on 215 carries (6.6 avg). He also added 55 receptions for 453 yards and 1 score. 
Cam Akers, Florida State (5'10", 217) — A former top-10 national recruit, Akers broke Dalvin Cook's freshman rushing record with 1,024 yards. His production dipped in 2018, but he received second-team All-ACC honors this past season after leading FSU with 1,144 yards and 14 touchdowns on 231 carries (5.0 avg).
Zack Moss, Utah (5'9", 223) — Cousin of former Jets WR Santana Moss, Zach was next in line to attend Miami until the Hurricanes moved on from head coach Al Golden in 2015. Moss earned third-team All-America and first-team all-conference honors in 2019, starting 12 of 13 games and rushing for 1,416 yards and 15 touchdowns on 235 carries for an average of 6.0 yards per carry. He also totaled 28 receptions, 388 yards and 2 TDs.
A.J. Dillon (6'0", 247) — Dillon is a tough, physical bruiser who barreled his way to 1,685 yards last season, which ranked sixth in the NCAA, and 14 touchdowns on 318 carries (5.3 avg). The New London, CT native eclipsed the 1,000-yard mark in each of his three seasons with the Golden Eagles, totaling 4,382 yards and 38 TDs on 845 carries in 35 games. Dillon is the grandson of College Football Hall of Famer Thom Gatewood, who was the first African American team captain at Notre Dame.
Enjo Benjamin, Arizona State (5'9", 207) — Benjamin was the bell cow for the Sun Devils in 2018 with a school-record 300 rushing attempts and 1,642 yards on the ground, which ranked fifth in the NCAA, and he scored 16 touchdowns. He added 35 receptions for 263 yards and 2 scores. On his 335 touches, he fumbled once. This past season, the Wylie, TX native was a first-team All-Pac-12 selection with 1,083 rush yards and 10 TDs on 253 carries.
Anthony McFarland, Maryland (5'8", 208) — McFarland's story, unfortunately, is documented with injuries dating back to DeMatha Catholic, the high school that's produced NFL talent such as former Eagles RB Brian Westbrook, edge Cameron Wake and debatably the top prospect in this year's draft class — Ohio State edge Chase Young. McFarland missed his senior year with a broken leg and redshirted his freshman year at Maryland after choosing to stay close to home over schools like Alabama and Miami. He was named a freshman All-American in 2018, rushing for 1,034 yards and 4 TDs on 131 carries (7.9 avg). He had 114 carries for 614 yards and 8 TDs this past season, starting seven of 11 games.