The Jets are scheduled to have seven selections in April's NFL Draft including four in the first three rounds. But GM Mike Maccagnan, who wants to build his team through the draft, wants more picks.
"We would like to move back and acquire more picks in this draft if possible because in my mind it affords you at least the opportunity to expedite the process of trying to improve the talent base on our roster," he told reporters Friday here at the NFL Combine in Indianapolis, IN.
The No. 6 overall selection could be coveted by suitors, but Maccagnan is not limiting his stockpiling approach to Round 1.
"We're open for business every round. If somebody wants to move up in any particular round and we have a pick in this round, call us up," he said.
Maccagnan has had a busy couple of weeks as the Jets released five prominent veterans including WR Brandon Marshall, C Nick Mangold and CB Darrelle Revis. After making those difficult football decisions, OvertheCap.com projects the Jets have $34 million in cap space.
"Unfortunately you have to make tough decisions to try to move this team forward," he said. "It's also not just that we like some of the young guys behind some of the guys, but it's also freeing up resources to go out there and add other pieces and parts at other places we might not be quite as strong at."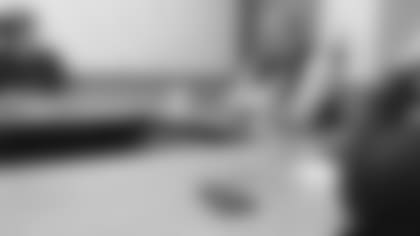 Maccagnan indicated a big focus this offseason would be the quarterback positon, but he mentioned other needs including LT, a pass-catching TE, pass rushers and cornerbacks. Head coach Todd Bowles said both Bryce Petty and Christian Hackenberg would have a chance to start, but the Jets will explore what is out there on the market and in the upcoming Draft.
"All options are on the table. We're going to do everything possible to make every position competitive in particular that position whether it's pro free agency or the college draft," Maccagnan said. "We do like our two young quarterbacks, but they're both young and they both have to go out there and earn whatever position they may eventually have on the team."
While the Jets have created financial flexibility, Maccagnan made it clear he will not overspend when free agency commences on March 9.
"There are a lot of players that we have targeted going into free agency that are good players, but also we feel — from intangible standpoint —are good people. Those are the guys we are going to be aggressive to go after, but we have to be careful not to overspend or overshoot the market in terms of what the compensation is. We're not going to necessarily mortgage the future for now."
Note: On the same day the Jets officially announced the release of WR Brandon Marshall, Maccagnan said WR Eric Decker needs a few months for his surgically-repaired shoulder to heal. Then the Jets will evaluate where he's at, but the third-year GM said he expects Decker will be ready for Week 1.