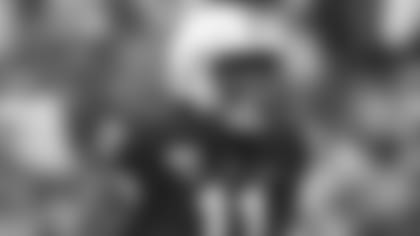 While Jets GM Joe Douglas and HC Robert Saleh bolstered the team's defensive line with free-agent signings (Carl Lawson, Sheldon Rankins and Vinny Curry) ahead of a switch to a 4-3 defense, the corps of linebackers may also be augmented in the NFL Draft, which begins April 29 in Cleveland.
The Jets have seven linebackers on their roster including C.J. Mosley, who opted out of the 2020 season and missed the majority of the 2019 campaign, Blake Cashman, who made six starts in 2019-20, and Jarrad Davis, a former first-round pick of the Lions who was added in free agency.  
Top of the Class
Micah Parsons (6-3, 246), Penn State
Parsons opted out of the 2020 season over concerns about the coronavirus pandemic and the impact it might have on his young son and other members of his family. As a junior (who graduated in December with a degree in criminology), he could have returned to play for the Nittany Lions, but decided to prepare for the NFL Draft.
In his Penn State career, Parsons had 192 total tackles — including 19 for loss and 6.5 sacks — 6 forced fumbles, 5 passes defended and a fumble recovery.
Parsons, who is the No. 1 linebacker in the draft according to Bucky Brooks of NFL Network, took part in Penn State's Pro Day at the end of March. He ran the 40 in 4.39 seconds, logged 19 bench-press reps, had a 34-inch vertical jump and a broad jump of 10-6.
"You just don't see guys [of Parsons' size] run 4.39 and then when you turn on the tape, they disrupt at every level," Brooks said on "NFL Now." "His ability to rush the passer, he plays with strong hands, he's terrific against the run -- he is a difference maker. I think this [workout] will be a reminder to NFL scouts that this guy deserves the big grades that some of us want to put on him."
Parsons is versatile, comfortable in the middle, on the outside or rushing the passer.
Jeremiah Owusu-Koramoah (6-1, 221), Notre Dame
Pro Football Focus rated Owusu-Koramoah (pronounced oh-WOO-sue COR-ah-MO-uh) as the No. 20-ranked player overall in the 2021 NFL Draft. He finished second on the Fighting Irish this past season with 62 tackles and led the team with 11 tackles for loss. Most draft analysts expect him to be selected in the first round, which in some mock drafts could mean anywhere from the top 10 to late in the round.
Though there are questions about his size, he has a rare combination of speed and game-changing potential on the outside. Owusu-Koramoah has all the ability, but he's often seen caught in a bind between safety and linebacker.
Best of the Rest
Nick Bolton (6-0, 231), Missouri
Bolton, a junior who is projected to be a late first round or early second round draft pick, ran the 40-yard dash in 4.59 and 4.60 seconds, and had 24 reps on the 225-pound bench press at Missouri's recent Pro Day. Most teams project him as a middle linebacker, though he did see time on the weak side in the Tigers' 4-2-5 defense.
Though he played in two fewer games in 2020, Bolton came close to matching his numbers from 2019. Last season he registered 95 tackles, 8 tackles for loss, 2 sacks and 5 pass break ups. He is reputed to have an exceptional football IQ, which could help him overcome his modest size.
"I believe I'm the hardest hitter in this draft," Bolton said.
Jamin Davis (6-3, 234), Kentucky
Davis has a unique blend of size, length and quickness on the inside, plus a nose for pursuing ball carriers and the ability to cover hulking tight ends. He ran a 4.49 in the 40-yard dash, a 42-inch vertical, and a 132-inch broad jump on Pro Day.
If there are questions about Davis, they center on his relative inexperience on the collegiate level where he only made 11 career starts. As a junior this past season, he led the Wildcats with 102 tackles (4 for loss), with 1.5 sacks while starting 10 games (he missed the Alabama game because of COVID-19 protocols).
Early evaluation had Davis slotted as a Day 3 pick, but his tape altered some of those opinions, turning him into a Top 100 prospect, then a second-round pick, then possibly a late first-rounder. A lot of potential. Could be a real sleeper.
Chazz Surratt (6-3, 230), North Carolina
Surratt was recruited by the Tar Heels to play quarterback. He redshirted his freshman year, biding his time behind Mitch Trubisky; he passed for 13 TDs as a sophomore in 2017; he did not win the starting job in 2018, played in one game, then sustained a season-ending wrist injury. A coaching change led to a unique position change, with an eye on playing in the NFL.
In his first year at linebacker, in 2019, he appeared in all 13 games with 11 starts. Surratt was a first team All-ACC selection and runner-up for ACC Defensive Player of the Year. In 2020 he had 91 tackles, 6 sacks, a forced fumble, and an interception in two fewer games.
Mid-Major Diamond
Zaven Collins (6-4, 260), Tulsa
Collins is yet another quarterback who morphed into a linebacker in college. He played defense and QB in high school, redshirted his freshman year while playing tight end on the scout team, then was pressed into service at linebacker because of injuries. His numbers that season: 10 games started, 85 tackles, 9.5 for loss, 1.5 sacks, 1 interception and 3 pass breakups in 12 appearances.
This past season Collins forced six turnovers in eight games, four on interceptions. Bucky Brooks has Collins listed as the No. 1 outside linebacker in the draft. Brooks calls Collins a "chameleon" who is "capable of aligning between the tackles as a box defender or on the edges as a blitzer/pass rusher."