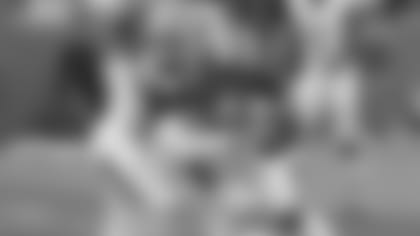 The Jets have a crowded tight ends room that includes Chris Herndon, Ryan Griffin, Trevon Wesco and Tyler Kroft, who was added in free agency. But it's possible GM Joe Douglas could add to the room through the draft.
Florida's Kyle Pitts, who is considered a unicorn by his Head Coach Dan Mullen, is by far the top TE prospect. It seems unlikely the Jets will select Pitts at No. 2 overall, but there are plenty of candidates later in the April 29-May 1 NFL Draft in Cleveland:
Top of the Class
Kyle Pitts (6-6, 240), Florida
Pitts, a unanimous All-America selection and the John Mackey Award winner in 2020, is the No. 2 overall prospect of Dane Brugler of The Athleticand the  No. 3 overall prospect of Daniel Jeremiah of NFL Network. He had 43 catches (0 drops on 66 targets), 770 yards and 12 TDs in 2020. He also ran a 4.44 40-yard dash at his Pro Day.
"He runs routes like a wideout," Jeremiah wrote. "The former Gator has burst off the line, sets up defenders and explodes out of the break point. Pitts has an enormous catch radius. He uses his speed to pile up yards after the catch. He showed tremendous improvement as a blocker in 2020. … Overall, Pitts is a unique talent with the ability to take over a game. He is the definition of a mismatch player."
Best of the Rest
Pat Freiermuth (6-5, 258), Penn State
Freiermuth has been a rock-solid player for the Nittany Lions. His 16 TDs areis the most in school history, edging Dolphins TE Mike Gesicki by one. Freiermuth, a two-time team captain, started in 26 of the 30 games he appeared in and finished his career with 92 catches, 1,185 yards and 16 TDs.
"Freiermuth doesn't have much special to him, but at the same time, he doesn't have many weaknesses either," Brugler said. "He's not a very sudden player, but he's coordinated, athletic, he has very strong hands. He plays with that fearless demeanor so he can work the middle of the field. I think he's a high-floor-type of NFL starter."
Hunter Long (6-5, 253), Boston College
Long developed as a blocker in Steve Addazio's power-run system his first three seasons at BC. After redshirting in 2017, he combined for 32 receptions 612 yards and 4 TDs from 2018-19. Under new Eagles HC Jeff Hafley in 2020, Long set career highs with 57 catches, 685 yards and 5 TDs.
"He rarely left the field," Brugler said. "He was either going out for targets or staying home to block. I think he really sums up that quarterback's best friend type of description. He has field awareness, focus through traffic. There's a little bit of an Austin Hooper to what he brings to the field and he's just a really trustworthy target."
Brevin Jordan (6-3, 245), Miami
Jordan, a three-year starter for the Hurricanes, improved statistically each season. He set career highs in 2020 with 38 receptions, 576 yards and 7 TDs. He's a versatile piece, who lined up inline, in the slot, out wide and in the backfield at The U, where he was teammates with Jets TE Chris Herndon in 2018. Jordan reminds Brugler of Vikings TE Irv Smith, a second-round pick out of Alabama in 2019.
"The last two years he has 73 catches and 52 of them, so over 70%, resulted in a first down," Brugler said. "He's a guy that can move the chains. Needs to get better in terms of the details as a blocker and a route runner, but he's an athlete and has natural ball skills. He can be a three-level pass-catching threat."
Day 3 Diamond
Matt Bushman (6-5, 240), BYU
Bushman may have his named called later in the draft because of injuries -- he ruptured his Achilles tendon in August, but recently participated in BYU's Pro Day and said: "I think the biggest thing for me was just showing that I'm football ready. I ran some good routes out there and caught the ball well, so it was a good turn out."
He has at least 500 receiving yards in each of his three seasons for the Cougars and had 47 receptions, 688 yards and 4 TDs in 2019.