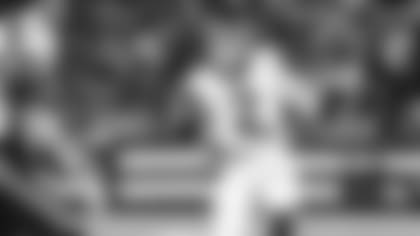 No one expected this. Most of all QB Zach Wilson . But instead of excuses, Wilson quieted the doubters and brought a packed house at MetLife Stadium to life on Monday night when he helped engineer a stunning Jets comeback in the 22-16 victory in overtime over their AFC East rivals, the Buffalo Bills.
Thrown into the fire after Aaron Rodgers sustained an apparent Achilles injury on the Jets' first series from scrimmage, Wilson played with aplomb, a steely determination and brought his team -- and his team's fans -- back from the depths of despair after Rodgers, a four-time NFL MVP, left the game really before it had really started.
"It was crazy," said Wilson, who completed 14-of-21 passes for 140 yards, which included a stunning TD grab by second-year WR Garrett Wilson. "First, I've so much love for him [Rodgers], my heart goes out. I know he'll find a way to get back. It's tough, it hurts us as a team.
"But my job was to step up and be as efficient as I can. There were a lot of emotions, Week 1, opening day. I've tried to learn from this guy but be ready to go. Stay calm and perform."
The runup to his third season with the Jets has been anything but easy for Zach Wilson. At the conclusion of last season, head coach Robert Saleh and general manager Joe Douglas went public with the team's intention to acquire a veteran quarterback. That guy was Rodgers, relegating Wilson to the No. 2 QB. He put his head down and went to work, soaking up all the support and suggestions that an elite veteran -- entering his 19th season in the league -- had to offer.
"I thought he was awesome," Saleh said of Wilson after the game. "He had a couple of big third-down throws to extend drives and score points. Good command of the huddle, lots of gritty scrambles. He had an interception and bounced back and didn't let it snowball. We still have a lot of faith in him and proved it by keeping him here [after acquiring Rodgers] and continuing to invest in him.
"He still has a long way to go in terms of growth, but what I love is his mental makeup and the confidence he has in himself. Today was a good example of what we think of him and how he can play. He's going to be great."
Thrust into the game early, Wilson battled through a first half in which he completed 5-of-8 passes for 41 yards and the interception that ended a drive, and Buffalo held a 13-3 lead at intermission. But things changed in the second half as the Jets' defense rose to the challenge and Wilson and the offense got their sealegs.
"We came out in the second half on a mission," Saleh said. "The defense getting stops, the offense came out and bam, 3 points [on a 43-yard field goal by Greg Zuerlein]. We get the turnover and then the TD to Garrett. A gritty performance."
With just under 10 minutes to play in regulation, Jordan Whitehead hauled in his third interception of the game, setting the Jets on an 8-play, 57-yard drive that culminated with a Wilson to Wilson 3-yard TD pass that was nothing short of amazing.
Zach Wilson's pass into coverage was behind Garrett Wilson. But the Ohio State product made a circus catch, using his right hand pull the ball back before he corralled the pigskin as he tumbled to the turf. Zuerlein added the extra point to tie the score, 13-13.
"We had a run play called," Zach Wilson said. "I know G pushed me all day to throw the fade. The play was either hand off or an RPO [run/pass option] on the back side. I looked out there and saw G and just threw it up. I didn't throw it well. He's just unbelievable."
The Jets took the lead, with under two minutes to play, when Allen on the next play from scrimmage could not get a handle on the snap from center, headed for the line of scrimmage where he was met, violently, by DL Micheal Clemons, who forced a fumble. Quinnen Williams recovered at the Bills' 27-yard line and Zuerlein connected from 30 yards to give the Jets a short-lived lead before Buffalo tied it on a field goal with two seconds left in regulation.
Xavier Gipson's 65-yard punt return negated the need for Wilson and the Jets' offense to go back onto the field for anything other than piling on the undrafted rookie from Stephen F. Austin.
"It was a huge division game and the Bills are a big-time team," Wilson said. "I think the defense did an amazing job getting the turnovers [3 INTS; 2 forced fumbles, one recovered], but we need to capitalize more. It's a huge win for us, but it's a long year.
"I just have to keep getting better, trust my feet, trust my coaches and trust the guys around me. This was really all done in camp, but now I have to keep improving."
That's because, as Saleh said after the game, team doctors suspect that Rodgers sustained an injury to his Achilles tendon (he'll is scheduled to have an MRI on Tuesday), which could mean that Wilson will be back under center when the Jets travel to Texas to face the Dallas Cowboys on Sunday.
See the best photos from the 2023 home opener victory during Monday Night Football against the Bills.