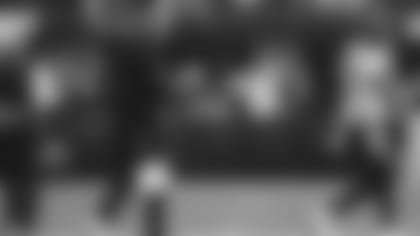 To paraphrase Al Pacino as Michael Corleone in "The Godfather Part III" ... Just when you thought the Jets were out, they find themselves back in the frenetic chase for the club's first playoff berth in 12 years.
Losses over the weekend by the Dolphins, the Patriots, the Raiders and the Browns have rewritten the script that head coach Robert Saleh mentioned last week, when he said that the prospect of the postseason was "farfetched" after the Jets loss to Jacksonville last Thursday night.
But hey, things change. The Jets have been pulled back in.
"It's fun to sit back and watch football," Saleh said on Monday. "It seemed like Santa Claus sent a lot of toys to build this winter, a lot of building going on. It was fun to sit back and watch football and see how things play out, this league is kind of wacky. I think everyone knows anything can happen, but with regards to what our goal is and what we're trying to accomplish, it doesn't change. It's what I talked about last week with regards to what our goal is and what we're trying to accomplish. Playoffs being the furthest thing from our minds in terms what we got to get done day in and day out and the process of how we go about it."
All that said, the scenario is crystal clear: If the Jets can win at Seattle on Sunday and then at Miami to close out the regular season -- along with a New England loss (or tie) in games against Miami and at Buffalo -- the Green & White would earn a berth in the seven-team AFC tournament.
"I'm sure there's going to be excitement, naturally," he said. "But it goes back to what I said, the message doesn't change. This isn't about playoffs. Obviously, I get it. I get it. We've got to get back to what we were in the first half of the season -- one day at a time, take advantage of the moment and whatever happens — happens. It's stay in the moment."
"I get there's something out there," he said, stretching out his right arm to no one in particular. "Just like there was something out there in the beginning of the season. But we've still got to find ourselves. We got to find some confidence. We got to get the ball rolling and it starts with how we prepare day in and day out and how we attack these moments. So, the playoffs ... all that stuff is cool. But we've got to stay connected to this moment and Seattle and Seattle only. And so my messaging, our messaging, doesn't change from what we talked about on Friday."
C.J. Mosley Speaks of 'a Special Feeling'
Jets linebacker C.J. Mosley said he's humbled after being selected to the Pro Bowl with two of his teammates -- DL Quinnen Williams and rookie CB Sauce Gardner -- on defense but would rather be playing elsewhere when the event rolls around in Las Vegas in early February.
"It's a very special feeling, and obviously means a lot to have your peers voting, coaches and fans, those three components make for a special moment," Mosley said. "After all the hard work put in it's nice to see hard work pay off. Hopefully we take care of business, and I won't be playing in it."
Up until this past weekend, the prospect of the Jets advancing to the postseason appeared to be grim, especially after the team's four-game losing streak. But those four dominos fell the Jets' way over the weekend.
"The football gods were definitely at work this past weekend, the weekend before as well," the team's defensive captain said. "We just have to deliver; we have another chance to be relevant for the playoff run. This doesn't matter if we don't take care of business. We have to come in every day, stay focused, time is limited to do something with the season. We have to find a way to win."
Mosley was selected to his fifth Pro Bowl (the previous four with Baltimore). He is No. 5 in the NFL with 142 tackles this season.
Gardner Keeping His Focus
Sauce Gardner became the first Jets rookie since 1988 (Erik McMillan) to earn selection to the Pro Bowl. And although he's pleased to be honored, he knows there's more on the line ahead of the final two games of the regular season.
"I just got in the league," the shutdown corner out of Cincinnati said. "I don't know who needs to win, to do this or that, I'm just all where my feet are at. I don't focus on the playoffs or the future. At Cincinnati Coach (Fickell) used to tell us just stay in the moment. One day, one week at a time, that's it."
He said that Coach Saleh emphasized the same message in his talk with the team on Monday.
"He revisited it again today, he said take one day at a time, one week," Gardner said. "We're not focused on the playoffs. The focus is on building a brotherhood, go out and practice and give it our all, go out on Sunday [at Seattle] and have fun."