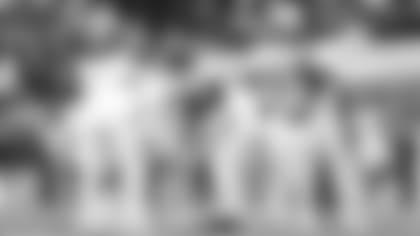 Jets head coach Robert Saleh on Monday said that he expects quarterback Mike White to play on Sunday when the Green & White concludes its 2022 NFL season at Miami.
"As of now all indications are that he's fine," Saleh said. "Typical game soreness, he should be ready to go on Sunday.
White, who missed two games with bruised ribs, was 23 of 46 for 240 yards, 2 INTs and no touchdowns in the loss at Seattle that eliminated the Jets from the AFC race for a playoff berth.
"I thought he played well in the first half," Saleh added. "He threw the ball well, we were moving the ball, but couldn't punch it in."
The Jets failed to score a touchdown for the second straight game and failed to advance to the postseason for the 12th straight season after heading into December with a 7-4 record.
Asked for his assessment of the team's situation at quarterback this season and looking ahead to next season, Saleh said that the "situation has been difficult for everybody."
"As I've said before, the quarterback is the head of the snake, it's the most important position in football," he said. "Just that little bit of uncertainty ... play hasn't been where we want it to be. It makes it difficult for everybody, at the same time there were a lot of good things from that room. We need better play from that position, sure, and 22 other teams are saying exactly the same thing."
He added: "Development is still taking place, Mike and Zach [Wilson]. Every position is under evaluation, you look everywhere to try to find ways to get better. With quarterback, the position is no different than wide receiver, offensive line, running back. We're doing our best to figure out what's best for this organization this week and in 2023. Whatever the decision is, we will roll with it."
On the injury front, Saleh said that safety Lamarcus Joyner, who aggravated a hip injury against the Seahawks, was done for the season. He said that his replacement, rookie Tony Adams "did a good job for Joyner and has a bright future for us." Adams took 83 percent of the snaps on defense and tied for third on the team with 6 tackles.
LB C.J. Mosley: 'We Didn't Finish the Way We Wanted To'
The Jets gave up two first-half touchdowns in Sunday's loss at Seattle, a turn of events they couldn't recover from.
"They got on top of us quick," C.J. Mosley said on Monday. "If you give up two touchdowns in the first half and let a team get off to a hot start at home in a big game it's tough to scramble back. We then settled in, got them off the field and got a couple of sacks [3 in all]. But it wasn't enough. As a defensive leader, we hold ourselves to a high standard. I believe in the defense. When we play these types of games late in the season, you can't give up those plays. I'm sure I can speak for everyone on the defensive side."
He added: "It's tough, disappointing, all those synonyms you want to add. We got one more game, we're not playing for playoffs so you've got to go back to the reason you come to work, and that's to win, play for you brothers and represent yourself. It was a tough loss, we didn't finish the way we wanted to."
For only the second time this season, Mosley missed some plays -- to be exact, 6 of the 72 on defense -- because of a shoulder contusion.
"It was a physical game for sure," he said. "I got a little burner on my shoulder, right contact in the right spot and it flared up. I want to be out there every snap, whether giving all 100 percent or 1 percent. I'd be out there playing with one shoulder. It also gave [Jamien] Sherwood a chance to get out there and shine. It was fun watching him and Quincy [Williams] with those young legs flying around. He [Sherwood] does a great job in practice and it was more experience for him."
C Connor McGovern: 'Every Game Is a Defining Moment'
Connor McGovern said that he and his teammates have no intention of mailing it in on Sunday at Miami, the final game of the Jets 2022 NFL season. Each team was in position for a playoff run, but the Dolphins and the Jets enter the game on five-game losing streaks that upended their promising seasons.
"There's a lot to play for in this game," he said on Monday. "Every game is a defining moment in your career. If I was running a team, I'd be looking to invest in a guy who ... I would probably pull up some games where there was not a lot to play for and see what kind of player they are. Do they love the game? I play this game because I enjoy it. I'm going to go out every week and give 100 percent. It's still important if you love this game."
Asked if the fluid situation at quarterback had an impact on the team's performance, McGovern said that "you have to be prepared for anything" in the NFL.
"I think it's something the team has handled pretty well," he said. "It isn't easy having any rotation at any position, it adds more difficulty. This team has done it with the next-man-up mentality and nobody bats an eye. It's not a matter of who's back there
"Every week we truly believed we had an opportunity to go out and win every game. There wasn't a single game where it was 'like wow we just got smoked, we're an awful team.' I feel in every single game we had an opportunity at any point of a game to do right things to separate. But we never really capitalized in the final stretch like we did at the start."
Like Mosley, McGovern, who played all 70 snaps on offense, said he battled throughout the game after sustaining a deep bone bruise in his left leg.
"Just a contusion, a deep bone bruise," he said. "I was unlucky in the first quarter, I got kicked. Then I got a pretty solid knee to the same spot in the third quarter. It's one of those fun injuries, nothing structurally wrong. Fun to work through the pain. I will be fine for Sunday."