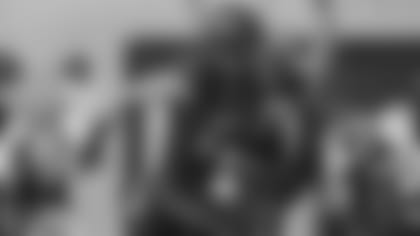 Newly-drafted Jets S Ashtyn Davis didn't have the typical path to the NFL. In fact, his journey to getting his foot in the door as a collegiate athlete started by putting his feet on a track.
"I had to put in a lot of work," said Davis, who was a walk-on to both Cal's football and track & field teams. "I would go to spring ball practices and then track right after. I basically had to do both like I was a walk on, because I was."
The 6'1", 202-pound Davis first earned a track scholarship as he found success early. He won the 2017 Pac-12 meet in the 110-meter hurdles and finished third in the 2018 outdoor nationals in the 60-meter hurdles. His experience on the track helped open the door to step on the football field.
"Track really helped me out," Davis said. "Fortunately, in track in my first year I did really well and got the ears of the football coaches a little bit, and that afforded me an opportunity. The whole mindset, training for track is a lot different. A lot of times you're out there running by yourself and you have to hit your own times and you have to be pretty disciplined or else you're not going to get the results you want come meet day. That mindset has carried over with me."
After a strong first track season, Davis found a second home on the football team and was named Special Teams MVP his freshman year in addition to starting the final three games at CB, totaling 25 tackles and 3 PDs. He won the award again in 2017, co-leading the FBS with 39 kickoff returns for 826 yards.
"I played special teams because that was the only way I could get on the field at first," Davis said. "I started the core four my freshman and sophomore year, and then I developed into a starting role. Then they began to taper me off it a bit. For the most part I played special teams throughout my whole career there."
The following year, the 23-year-old converted to safety full time. By his junior season, Davis was an honorable mention All-Pac 12 mention after starting all 13 games and recording 56 tackles, 4 INTs and 5 PDs. This past season, the Cal product became a second-team all-conference pick, totaling 57 tackles, 2 INTs, 4 PDs and 2 FF in 12 games.
"I think I can contribute anywhere they put me," Davis said. "I'm comfortable on the outside and inside, whatever the case may be."
He added: "He's [defensive coordinator Gregg Williams] a guy that likes people that know multiple positions I think that I'm a good fit for that. That was something that I kind of took the next step on. After my first year of playing safety, I wanted to know every position and not just my responsibility, that way if someone went down they could put me in."