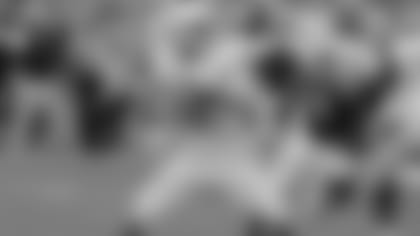 New Jets QB James Morgan attended high school 1.5 miles from Lambeau Field in Green Bay, WI, and fell in love with football watching QB Brett Favre. Favre, who played 16 seasons with the Packers, played one season with the Green & White in 2008.
"It's going to be a dream come true," Morgan said. "I grew up inspired by Brett Favre, he was a Jet and I just can't believe it. I had some big-city experience at Miami and I can't wait to go to New York/New Jersey. I'm so extremely excited and I can't wait to get going and get to work."
Morgan became the first QB from the Green Bay area to earn an FBS scholarship in more than 30 years and was the first signal-caller from the Badger State to be selected in the NFL Draft since the Packers took Wisconsin's former QB Bud Keyes in the 10th round of the 1988 draft.
"The biggest thing about my road is that it definitely was not without its bumps," he said. "It wasn't from Point A to Point B like I thought it was, but I'm extremely appreciative that I had those adverse situations because it made me the player and the man I am today. It's definitely not how I would've pictured it, but I've learned a lot along the way and very thankful to be at this point."
Morgan began he collegiate career at Bowling Green, but when coach Dino Babers left for Syracuse, Morgan transferred to FIU. He wrote a letter to QBs coach Brynn Renner, expressing interest in their program. After two seasons playing for the Panthers, the 6-4, 229-pounder finished third in program history with 5,375 passing yards. His 40 passing TDs rank third-most in school history as well and he broke FIU's career records for passing efficiency with a 143 rating.
"My style is a pocket passer," he said. "I absolutely love to go dice up the defense. I'm a guy who will study his butt off in film and know exactly where to go with reads, coverages. I love to feel prepared. I'm going to do everything I can with the preparation process and then go back and dice them up in the pocket. But I'm also a guy who's athletic enough to pick up the play when we need it. Other than that, I'm a great leader, I'm a real competitor and I can't wait to get in there."
The Jets were Morgan's only formal combine interview and he had subsequent meetings throughout the pre-draft process. He joins a QB room that includes Sam Darnold, David Fales and Mike White.
"I think he's a great quarterback in this league, obviously a rising star," he said of Darnold "I'm very excited to be working with him. My whole motto throughout this process is to do whatever I can do to help the organization win games whatever role that may be. I want to make myself valuable to the team."