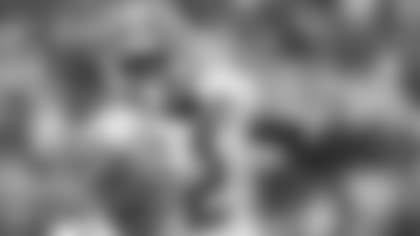 The Jets have a taste for gator after adding their fifth Florida-product to the team on Saturday, drafting RB La'Mical Perine in the fourth round of the 2020 NFL Draft. And just hours before the Green & White called the name of the the 22-year-old RB, Perine had taken to Twitter to express his feelings about waiting to be drafted.
"This is the opportunity of a lifetime honestly," Perine said in response to tweeting 'patience..' hours before getting drafted. "It was a great feeling being able to go to a great organization, a prideful organization. Just waiting on that call, I was trying to stay patient like I had put on Twitter. I know God had something good planned for me so I'm just excited to get up to New York."
Originally from Mobile, AL, Perine's path to the draft required a little more vulnerability than usual. At 16, with only one scholarship offer (Mississippi State), Perine was determined to catch the eye of scouts and coaches at Florida. So, he packed his bag, purchased a bus ticket , and took the long ride solo all the way to Gainesville to work out for the Gators. His efforts proved successful, and he spent his collegiate career in the Sunshine State.
"I feel like this has just come with hard work and dedication honestly," Perine said. "I've always been a hard worker in everything I've done, and I feel like it just carried over in college. Just me being able to get an offer from Florida carried over to me having an opportunity now."
Perine spent 2016-19 at Florida and appeared as one of the team's most consistent offensive pieces in his time there, leading the team in rushing yards, carries and touchdowns from 2017-19. He finished his career with 2,485 rushing yards on 494 carries, 22 touchdowns, 72 receptions for 674 yards and 8 receiving touchdowns. In his assessment, Perine thinks he has a lot in common with Jets' No. 1 RB Le'Veon Bell.
"I'm a hard-nosed runner, a competitor, and a person who does not like to lose," Perine said. "I'm just a hard-working guy and I'm able to be versatile and able to catch out of the back field. I feel like me and Le'Veon will be a great duo. That's a guy I look up to as a running back. We have similar games. I feel like I can catch the ball well like he can. Just being able to have this opportunity is an honor."
Along with his contributions on the offensive side of the ball, Perine made himself into a multi-threat on special teams.
"I feel like to be able to play in this game you have to be able to contribute on all four phases, and that's something I'm very good at," Perine said. "I think I can play all special teams, be a great running back as well and just be versatile all over the field. I will be able to do anything for my teammates and coaches and will be a dependable player."