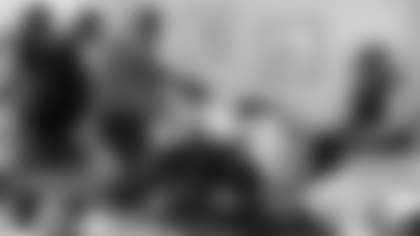 New Jets T Mekhi Becton is a big man with an equally large mean streak and confidence to match.
"Clearly the most dominant guy on the field," Becton said when he was asked to provide a self-evaluation. He added: "I bring a strong edge. I always play with a chip on my shoulder. I promise you this chip will stay on my shoulder, it's not going anywhere. I'm going to keep playing like I never got it."
The 6-7, 364-pounder is accustomed to being an imposing presence with his "nasty" attitude, but is unfamiliar with his new home -- he's never been to the New York area. Becton, 21, however, followed the Jets when QB Brett Favre (2008) and RB LaDainian Tomlinson (2010-11) wore green and white. Becton hopes to have a similar impact on the organization as T D'Brickashaw Ferguson, who was a three-time Pro Bowler in 10 seasons in with the Jets. Ferguson was also the last tackle the Jets selected in the first round of the draft (2006) before Thursday night.
"I definitely think I can be that type of player for this team," Becton said. "I have big shoes to fill, so I'm going to come in and come to work every day. I'm definitely ready."
Becton models his game after Tyron Smith, Joe Thomas, Orlando Pace and Jonathan Ogden, and "would love to have my name in the same sentence as those greats."
His reputation may be as a menace in the run, but against pass rushers, NFL Network's Brian Baldinger perhaps put it best — "you have to orbit the sun to get around him." Becton has light feet, which comes from him basketball background. Former Louisville Coach Bobby Petrino knew he wanted to offer Becton a scholarship when he saw him putting down reverse dunks.
"I've always been athletic for my size," Becton said. "People don't expect me to move as well as I do or do the things I can do. I've always been like this growing up."
The Highland Springs, VA native, started 12 games at RT and 21 at LT in college and came into his own this past season with new OL coach Dwayne Ledford.
"In the offense in the past, he was flipping strong side and weak side, so he was playing left and right tackle on any given play," Jets GM Joe Douglas said. "I think settling in at left tackle, you could really see this guy has all the tools. He's comfortable in a left-handed stance, he's got a good kick set, and you could really see him settle in. His technique really blossomed."
Becton and Douglas are both from Virginia, which is the topic their pre-draft conversations began on, but the first time Douglas watched his new tackle, he stuck out. Literally.
"The thing that jumps out when you first watch Mekhi on tape, is it's like a giant among boys out there on the field," he said. "His sheer size just jumps out and then you see him move and you see how easy he can slide, mirror defenders. His heavy hands, his ability to lift people off of their feet and move people with ease, there's a lot of unusual traits to this young man's game."