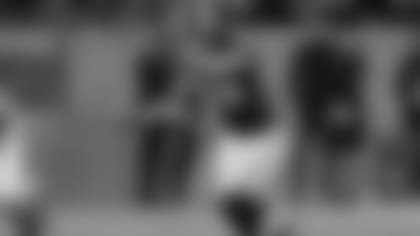 Braden Mann — a 5-11, 198-pound Texas A&M product — became the first punter off the draft board in 2020, and the first punter drafted by the Jets since Lachlan Edwards in 2016. Although he didn't take over the Aggies' punting duties until 2018, Mann earned unanimous All-American honors and the Ray Guy Award as the nation's top punter following his first year as the full-time booter.
"I think I had a great team surrounding me, that's number one," said Mann of his accolades. "It's not an individual sport, there's 11 people on the field at a time so I think the team around me helped with all of those. Being able to play with those guys really allowed me the opportunity to showcase a little bit and help them as well. They're helping me, so I wanted to help as much as I could and help our defense. I don't think it was as much about the self-accolades, but it was a team thing for sure."
Mann spent his first two years at A&M learning under starter Shane Tripucka, but that didn't stop him from excelling in other areas of the field. Punting only twice in 2016, Mann served as the team's kickoff specialist his first two seasons, recording 55 touchbacks on 76 kicks in 2016 and 33 touchbacks on 73 kicks the following year. Then in 2018, he set the NCAA record while averaging 51 yards per punt, placing 19 of 50 punts inside the 20-yard line and forcing 11 fair catches.
Not just a one-trick pony, Mann's most head-turning stats came his senior year when he recorded seven tackles in coverage.
"On the ability, I like to think that I can tackle," Mann said. "A lot of people think the kicking game is a 10-man play because the kicker isn't expected to make a tackle, but I think it's an 11-man play. Obviously if I do my job well enough, I shouldn't have to be able to make a tackle, so some of those I wish I had back for sure. But if I have to get in there, I'm more than happy to do so. I used to play linebacker so it's in my nature a little bit."
Now, the Houston, TX native will join Jets special teams coordinator Brant Boyer's competitive group. Over the past two seasons, Boyer has led his unit to top 10 ST rankings according to Rick Gosselin, ranking 1st overall in 2018 and 8th overall in 2019.
"I've definitely talked to him [Boyer] a lot during this whole process this spring," Mann said. "I love talking to him, he's obviously amazing at what he does and one of the best in the business. That's why I'm really excited to get to New York. I think it's going to be a great opportunity for me to get there and be part of one of the best special teams units in the country. I think it's a cultural thing there and I'm really excited to learn and grow."