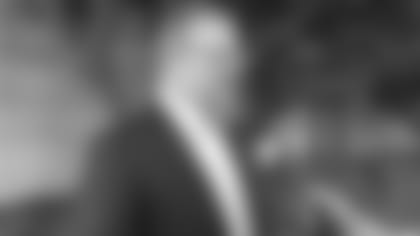 The Jets' front office contingent may be over 2,000 miles away from their home base right now but the NFL meetings are no vacation. The Arizona desert heat is one thing, and the league's business never cools off at this time of year, either. "There's a lot of stuff," said Jets general manager Mike Maccagnan, "that flies around here."
But Maccagnan was able to take a little time off from his schedule, phone calls and emails to talk with reporters about the state of the Jets almost two weeks into the free agency signing period and about a month away from the 2019 draft.
"It's interesting when you have an offseason where you target certain guys and you actually get them," Mac said Monday evening at the end of his news conference with team reporters in the courtyard of the Arizona Biltmore in Phoenix. "We're kind of excited to see how those guys perform. We feel we're making progress."
The Jets were the talk of the early signing period when they brought in RB Le'Veon Bell from the Steelers and LB C.J. Mosley from the Ravens.
Bell, Maccagnan said in his first remarks about the Jets securing the talented runner who sat out last season, "was a guy we felt definitely could bring a lot of things to the table, not just from an ability standpoint — he has a lot of versatility as a runner and a receiver — but we also did a lot of research on him from his energy standpoint. That's another thing we're looking forward to, seeing his impact, having him work with our offense and our other young players, especially Sam." As in Darnold.
Mosley, the GM said, was a player who cost a pretty green penny but who also checks all the on-field and off-field boxes.
"I know the team he was on [Baltimore] obviously liked him quite a bit and didn't want to lose him," Maccagnan said. "I think C.J., a lot of people were surprised when he did get out there. But he was highly sought after, a five-year vet, a four-year Pro Bowl player, but also a very good guy from a cultural, from an intangible standpoint.
"We were aggressive in our approach and we feel very good about it, a player with his ability and then you factor in the intangible stuff — he's a player we're very excited about adding to our team and moving forward with."
The Jets, of course, didn't stop there, adding, among others, outgoing Pro Bowl-caliber guard Kelechi Osemele and slot WR Jamison Crowder and re-signing C Jonotthan Harrison for the offense, adding CB Brian Poole and re-signing D-linemen Henry Anderson and Steve McLendon and LBs Neville Hewitt and Brandon Copeland for the defense.
Next stop — for some Jets personnel — will be Nashville for this year's movable feast known as the NFL Draft. Maccagnan and his scouts, meanwhile, will be ensconced in the draft room at the Atlantic Health Jets Training Center. The GM gave a little more information on how the Jets are feeling about holding the third overall pick of Round 1, which will be held April 25.
"We're very open to potentially moving back from 3. I wouldn't envision us moving up in the draft — I think you can probably rule that one out," he said. "If we end up staying at 3 and taking a player, we think there are some very good players at 3. But we'd definitely be interested if another team came with an offer that we felt was worthy moving out of the spot."
How far down the first round might he go?
"I think there's some really good spots in this draft," Mac said. "There isn't an answer, per se, that we want to go back to 8, 10, 12. I think it really depends on what the picks are that would be in the trade."
The Jets still have more roster to fill out. Some good unrestricted free agents remain on the second-tier market, and there will be undrafted college free agents to sign. But Maccagnan's message on this warm night in the desert was: So far so good.
"On paper, we feel good about a lot of the things we've done," he said. "But we have a whole offseason ahead of us. We still have the draft. We feel we've added some very good players. We've brought back some players on our own team. There's obviously some players we've lost. But we feel good about where we're moving. We've added not just good players but good guys for our locker room and we continue to build on it."