We have countered a tough season-ending injury to KR Josh Cribbs with the signing of another accomplished free agent kick returner in announcing the signing of Darius Reynaud to our active roster.
Reynaud began his NFL career as an undrafted free agent with Minnesota in 2008, played nine games with the Giants in 2010 and played last season and seven games this season with Tennessee before the Titans released him Oct. 21.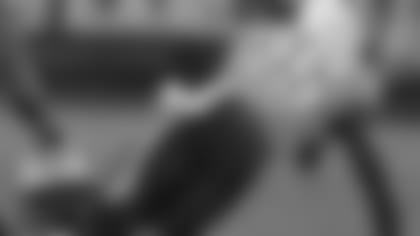 Reynaud is a 5'9", 201-pound RB-WR type whose specialty, like Cribbs, is kick returning. For his career he has returned 102 punts for a 9.7-yard average and two touchdowns, and he has run back 101 kickoffs for a 22.5-yard average and one TD.
All three scores came for the Titans at LP Field last season. The kickoff return was a 105-yarder in the fourth quarter that tied the game at 27-27 against the Lions that Tennessee won in overtime, 44-41.
And the two punt returns both came in the regular-season finale against the Jaguars, when on consecutive touches at the end of the second and the beginning of the third quarters, he took 69- and 81-yard returns to the house in the Titans' 38-20 triumph.
Reynaud thus became the 13th player in NFL history and the first since Reggie Bush for New Orleans in '08 to return two punts for TDs in the same game.
Reynaud played his college ball at West Virginia. He was a Mountaineers teammate of Ellis Lankster (the photo above right shows Lankster tackling his future Jets teammate during last year's Monday night game, and the photo on top of the story shows Reynaud, No. 25, with fellow Titans). And he left school two years before Geno Smith arrived as a freshman to begin his college quarterbacking career.
Darius will wear No. 24 as a Jet.
Cribbs, who injured his shoulder in the second quarter of Sunday's game against Miami, has been placed on Injured Reserve.