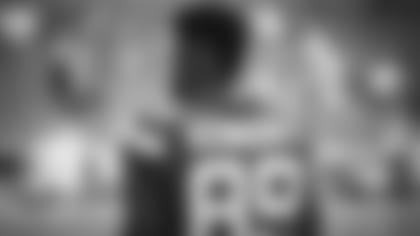 Table inside Article

| How Signed | Returning Jets | Newly Arrived | Recently Departed |
| --- | --- | --- | --- |
| Draft | Chris Herndon (2018 4th Rd), Trevon Wesco (2019 4th Rd) | | |
| VFAs | Ryan Griffin (2019) | | |
| UFAs | Daniel Brown (2019 CHI) | | |
| Waivers | Ross Travis (2019 IND) | | |
Cornerstones and Returnees
The Jets are excited about the healthy return of TE Chris Herndon, who played in only one game in 2019 after a promising rookie year. Herndon began last season serving a four-game suspension and then missed another four games because of a hamstring injury. He finally saw action against the Giants in Week 10 but landed on injured reserve after fracturing a rib. In 2018, the former fourth-round pick ranked second on the Jets in receptions (39), receiving yards (502) and receiving touchdowns (4).
"I think he is a guy we are excited to get back and can't really wait to get going and see how he will fit in with everything," said head coach Adam Gase. "We expected him to be a big part of the offense last year and we didn't even get that opportunity. I think we are adding a guy that is a very good player that is finally going to be able to get back in the mix of this thing."
Tight ends coach John Dunn added: "He works extremely hard and takes a lot of pride in it. He's made a lot of strides this offseason, so I'm looking forward to seeing what he can do. Obviously, he's a very talented player and had a couple minor setbacks last year, but I think he's more motivated than ever. I look forward to seeing him healthy and at full capacity when we hit the field."
In Herndon's absence, eighth-year veteran Ryan Griffin had 34 catches for 320 yards and a career-high 5 touchdowns after signing with the Jets the day before training camp. General manager Joe Douglas inked Griffin to an extension in November and re-signed Daniel Brown before free agency began. Trevon Wesco, who was primarily used as a blocker and at times lined up at fullback, also returns in his second pro season.
Comings and Goings
The only player to join last year's group is former Penn State basketball player Ross Travis. After starting 98 games for the Nittany Lions basketball team, Travis declared for the NFL and signed with the Chiefs practice squad in 2015. He spent two seasons on and off Kansas City's roster and signed with the Colts in 2017. He was waived last December and the Jets claimed him the following day.
JetsSpeak
Dunn said his group is versatile, smart and motivated, and he's eager to see how their virtual offseason program translates to the field. Dunn and the rest of his group, with the exception of Travis, are entering their second season in Gase's system and he's ready to cut his players loose.
"I think all these guys, I look forward to making the next jump whether it's mentally or physically," Dunn said. "They're all in different stages of their career. What's going to be fun is, after last year when you're learning, just hitting the field and having the comfort of what we're doing schematically and letting the true talent come out. The things we talk about all the time is it's not about what you do but how you do it. One of the things we're really focusing on improving from last year is the technique. That's something I'm really looking forward to seeing from all these guys — taking the next step and how they mesh together."