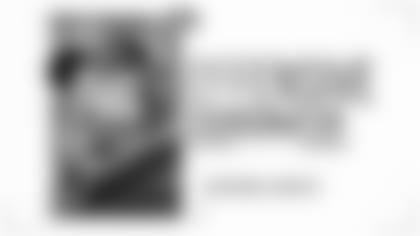 Head coach Robert Saleh and the Jets have hired a coach with a number of Jets connections in Nathaniel Hackett to be their new offensive coordinator.
Hackett, 43, comes to the Green & White after one season as head coach of the Denver Broncos. An experienced NFL coordinator, he has fielded a top-10 scoring offense three times and his offense helped three teams to Conference Championship games (2017-JAX, 2019-GB, 2020-GB).
He began his coaching career in 2003 for UC Davis and Stanford and, except for a three-year stint at Syracuse from 2010-12, he has been a pro coach since 2006.
He first worked with Saleh on the Jacksonville staff of Doug Marrone in 2015-16, when Saleh was the Jaguars' linebackers coach and Hackett was the quarterbacks coach. Saleh left for San Francisco in 2017 but Hackett stayed on as Marrone's offensive coordinator from 2016-18.
And when Marrone, who served as the Jets' O-line coach from 2002-05, returned to Syracuse as the Orange's head coach from 2009-12, he took Hackett with him as OC with position responsibilities for QBs and TEs.
Also, Hackett is the son of Paul Hackett, whose four decades in coaching included his stint as the offensive coordinator for the Jets under Herm Edwards from 2001-04.
Nathaniel Hackett's career NFL stops before and after Syracuse and Jacksonville included Tampa Bay (offensive quality control, 2006-07), Buffalo (OQC from 2008-09 and offensive coordinator under Marrone from 2013-14) and the Green Bay Packers (OC, 2019-21). And those teams and QBs achieved a number of distinctions with Hackett at the offensive helm:
■ The Jaguars' 2017 offense led the NFL with 141 rushing yards/game, were second with a 64% red zone touchdown rate, and were fifth in scoring with 26.1 points/game.
■ With Hackett coordinating, Green Bay was a top-10 passing offense in 2020 and '21 and led the NFL in scoring in 2020, averaging 31.8 points/game.
■ His offenses helped three teams reach conference championship games — the 2017 Jags and the '19 and '20 Packers.
■ While he was a pro coordinator for the Bills, Jaguars and Packers, those teams went 69-44, a .611 winning percentage.