This is the sixth in a series of features on the 2016 NFL Draft, position by position. Today's positions: Cornerbacks/Safeties. The Jets' DB roster synopsis is followed by five players considered top candidates at CB plus two top candidates at S.
The Jets' secondary, like any other position on the team in any offseason, can use and will get an infusion of new talent. But how much is open to discussion, inside the front office and out.
At one corner is Darrelle Revis. He's a seven-time Pro Bowler (his fifth selection as a Jet coming after this past season), a four-time All-Pro first-teamer, and the ball kept finding him, as his nine takeaways attest — five interceptions and four fumble recoveries, the nine the most among all NFL corners last year.
At the other starting corner spot, with Antonio Cromartie departed, head coach Todd Bowles said Buster Skrine "will probably start out there." But the roster has many other options for that spot and nickel:
■ Marcus Williams, who started three games last season and had a team-leading six INTs.
■ Dexter McDougle, the 2014 third-round draft pick who made his pro debut last year.
■ Dee Milliner, the 2013 first-rounder who's fought injuries for three seasons but has flashed when he got on the field.
■ Darryl Morris, a fourth-year free agent who last played for the Texans.
■ Kevin Short and Kendall James, January reserve future signees, plus any other draft choices and undrafted free agents.
"All of them will be competing for it," Bowles said. "We'll see when training camp comes what the competition brings and who wins it."
Safety is perhaps more settled. Marcus Gilchrist came aboard as an unrestricted free agent to join second-year man Calvin Pryor in the deep middle. The two combined for 28 starts and five interceptions. When Pryor was out with injury, Rontez Miles and Dion Bailey each got a start, and Ronald Martin is another safety who, like Bailey, arrived from the Seahawks early last season. Jaiquawn Jarrett remains an unrestricted free agent.
Five Top Cornerbacks in the Draft
JALEN RAMSEY, FLORIDA STATE
Ramsey began his college career as the first freshman corner to start a Seminoles season opener since Deion Sanders in the mid-Eighties and finished as FSU's 36th consensus All-American. He had two interceptions and 22 PBUs his final two seasons combined while moving around from safety to corner (outside and slot), returning an occasional kick, and, oh yeah, winning the long jump for the track team. Not surprising, he tied for the best Combine vertical (41.5") and broad jump (11'3", in top photo) among all participants. The biggest decision for the team that drafts him very early Thursday night is where to play him.
VERNON HARGREAVES III, FLORIDA
Hargreaves (5'10", 204) has the bloodlines (dad Vernon II was named to UConn's 100th anniversary team) and the talent, which produces the awards — Florida Mr. Football finalist, Under Armour All-American Game MVP out of high school, three-time All-SEC first team and two-time All-American. For his three Gators seasons he racked up 10 INTs and 31 PBUs and topped it off with some fine Combine numbers, especially in the vertical (39.0") and broad jump (10'10"). He doesn't have blazing speed but his excellent ball skills should have him being a top-10 selection on Thursday.
Many fans see Apple (below photo) as a great fit, for example, for the Jets at No. 20. Once the New Jersey product got an iron deficiency diagnosed in Columbus, his Buckeyes career took off. He totaled 86 tackles, four interceptions and 18 pass breakups in 2014-15 combined, and intercepted Marcus Mariota's last collegiate pass in the 2014 National Championship Game. He's got the size (6'1", 199) and speed (4.40 40 at the Combine, 4.34 at his pro day). He may be prone to penalties and as a redshirt sophomore-eligible, he's still young, but he should be the apple of some team's eye in the second half of Round 1.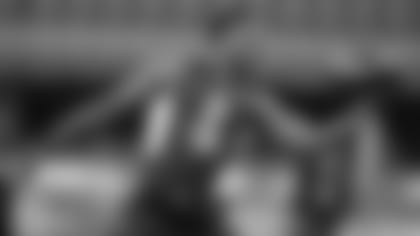 WILLIAM JACKSON III, HOUSTON
Jackson had production in his last two seasons after transferring from junior college to Houston (24 starts, seven INTs, 33 PBUs). Then he had some scouts and reporters checking their notes during the Combine — NFL.com's Bucky Brooks wrote that he was one of the workouts' five biggest winners with a 4.37-second 40, tied for third-best among CBs (and later turned in a 4.32 at his pro day). Add that to his decent length (6'0", 189) and he could be tabbed late in the first round early on the second day.
MACKENSIE ALEXANDER, CLEMSON
Alexander (5'10", 190) is a top-end talent (nation's No. 4 overall recruit coming out of high school) who had strange production in his two redshirt seasons with the Tigers — no interceptions, 11 pass breakups in the two seasons combined — primarily because opponents rarely challenged him (no TDs allowed in man coverage last year). He's brash and has less than ideal corner size but he's also athletic and doesn't like coming off the field or out of the video room.
Two Top Safeties in the Draft
KARL JOSEPH, WEST VIRGINIA
Other than CB/S Jalen Ramsey at the top of the draft, safety is not a strong position this year. Joseph (5'10", 205) might have been a first-rounder but the non-contact knee injury he suffered in an October practice ended his senior season after he was leading the FBS with five INTs. The ACL limited him to just the benchpress (19 reps) at his WVU pro day and is a red flag for his draft status. But he's a big-time hitter, fiercely competitive, a Mountaineers team captain, and a player to whom football is very important. Assuming he gets medical clearance, he should go to some lucky team on day two.
Bell (5'11", 199) was a sophomore starter and big-play maker during OSU's 2014 national title run with six interceptions, six pass breakups and 92 tackles. His numbers dropped a bit last season (two INTs, 9 PBUs 65 tackles), and he didn't run at the Combine (4.53-second 40 at his pro day) due to a hamstring pull. Not a big player, borderline cocky, and he's heard criticism about being soft against the run. But OSU coach Urban Meyer has said, "I've been lucky to have been around a lot of good safeties, and he's as good as I've ever had."